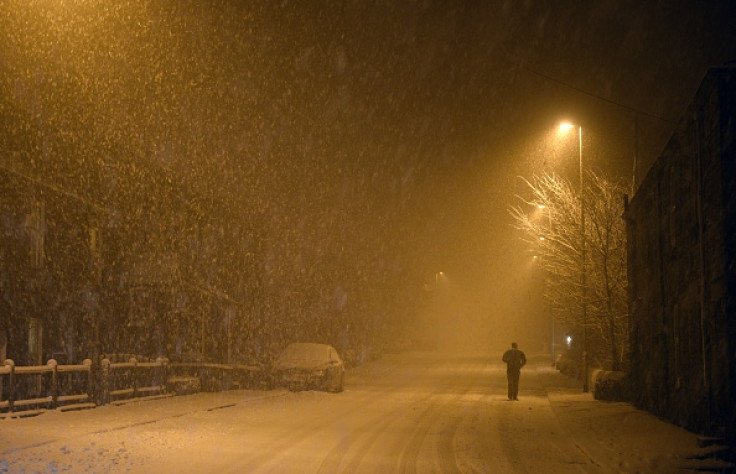 As much as 15cm of snow is being forecasted for areas in England and Wales with weather warnings in full swing across UK.
Met Office has released "be aware" yellow warnings for snow and ice on Tuesday (20 January) and Wednesday (21 January) across parts of Wales, the Midlands and northern England.
A spokesperson for the Met Office said: "Overnight tonight, showery weather will start hitting cold air in Wales and the Midlands where it is very, very cold. Parts of the Midlands, north-west England across Wales are likely to see snow.
"Thursday will be dry but dull and slightly warmer. It won't be anywhere near as cold as it was last night. Where there is cloud cover, we are likely to see temperatures of freezing or just over."
The highest accumulation of snow is expected across northwest England, high ground in Wales and the Peak District.
The levels of snow are predicted at 3-to-8cm across low levels and 10-to-15cm on high ground areas.
Rain arriving in western areas is predicted to turn into snow as it comes inland.
Met Office is warning people to take caution as snow buildup could disrupt transport networks in affected areas.
Dr Angie Bone, of the extreme events team at Public Health England, said, reported The Guardian: "Cold does kill, even in places where the temperatures aren't at their lowest. Most of our advice on keeping warm in cold weather may seem like common sense, but it's important that we make the point that people should think about how cold can affect them.
"This is also a good time to think about how the bad weather may affect your friends and family, particularly if they are older or very young or have pre-existing health conditions. These groups can be particularly vulnerable to the ill effects of cold so think now what you could do to help."
The freezing weather is expected to take a turnaround on Friday (23 January) with temperatures expected to go up to 11C in certain areas across UK.