Londoners experienced a dusting of snow on Tuesday 26 April as temperatures dropped below the average across the UK. Many took to Twitter to post images and videos, expressing their shock at seeing snow in late April, with the hashtag "#snow" beginning to trend on Twitter within minutes.
The last time London saw snow in April was in 2008 when it was recorded in Hampstead on 6 April. However, forecasters at the Met Office have said that snow at this time of year is not unusual. According to weather statistics, the UK sees an average of 2.3 days of snow or sleet fall in the month of April. A number of severe weather warnings for snow and ice were issued in parts of Scotland for 25, 26 and 27 April.
A chief forecaster for the Met Office said: "The Arctic airmass remains in place, bringing unusually cold conditions for this far into the spring. Heavy wintry showers today will bring rain, sleet, hail and snow, occasionally reducing visibility, but away from the higher ground, any settling snow will probably be very temporary."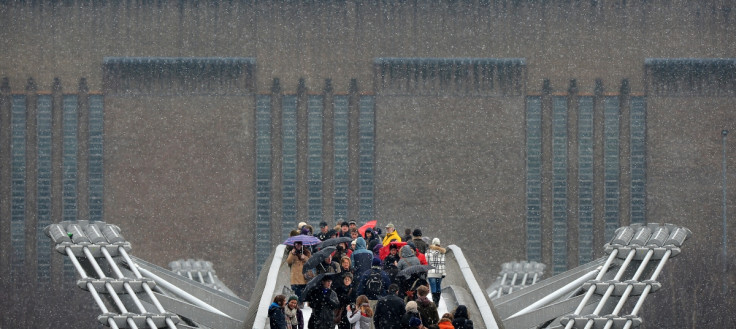 While the average maximum temperature for this time of year in London is around 15C, temperatures in the capital struggled to rise above 10C on 26 April. On 25 April Loch Glascarnoch in Scotland saw a maximum temperature of only 4C.
Forecasters have warned that parts of Scotland should expect another cold night, where temperatures dropped to -2C on 25 April. Many roads are expected to fall below freezing and wintry showers are expected to continue to feed into Scotland from the north, bringing an increased risk of ice on untreated surfaces, particularly over higher ground.
A spokesperson for the Met office said: "After the sun goes down, lying snow becomes more likely. Additionally, given the number of wintry showers today, many roads will have less chance to warm up, and may then remain wet until temperatures fall below freezing overnight."
The Met Office reminded people that it is a myth that it has to be below zero degrees for snow to form, saying that some of the heaviest snow in the UK falls when it's between 2C and 0C. However, London was roughly 7C when it experienced the dusting of snow on 26 April afternoon.