UK weather forecast: Stormy conditions and flood alerts but above-average temperatures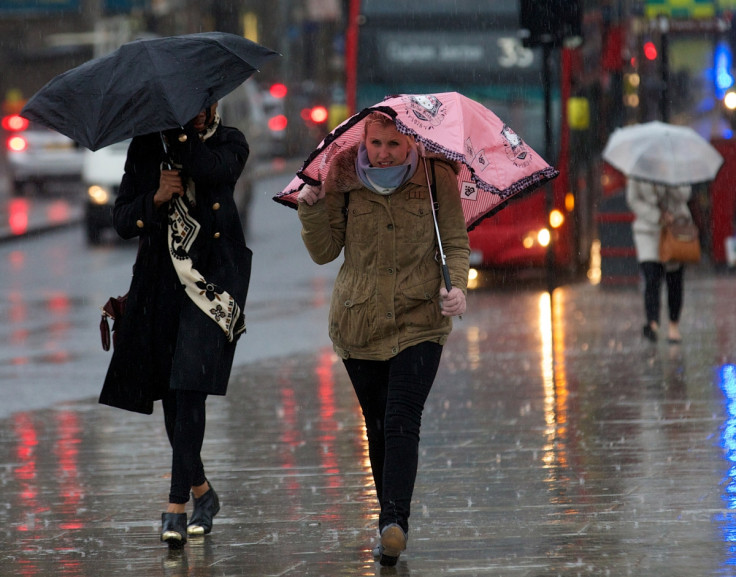 The UK is set to be hit by strong winds and heavy rain on Monday (9 November) as wind and rain warnings have been issued and more than 20 flood alerts enacted. Forecasters have cautioned that rivers could rise dramatically in northern England as heavy rain puts further strain on banks already struggling after a wet weekend.
The Met Office has issued yellow warnings for wind in parts of Scotland and the north of England, where gusts of 50-60mph are expected. There is also a risk of isolated gusts reaching up to 70mph in southeast Scotland and the far north of England.
A spokesperson for the Met Office said: "The most likely area for localised minor impacts from the strong and gusty winds is over and to the east of high ground in northern Scotland and northern England during the morning, coinciding with the rush hour in some places."
The Met Office warned of possible disruption to travel and also signalled that a lull during strong winds during the afternoon might not last long as gusts return later on Monday (9 November) evening. Conditions are being kept under review and further warnings could be issued.
Yellow warnings for rain have also been issued for parts of northern England, with the Environment Agency issuing 25 flood alerts in Yorkshire, Somerset and Wales. Forecasters warned that an already wet weekend could turn into a wet week as warm air from the Atlantic brings heavy rain. The north of England will see the worst-hit regions and has the most risk of flooding.
The Met Office said: "The rain will ease on Monday evening but the risk of flooding will persist for a time as the water makes its way through the river system. Where the heaviest rain falls in western parts of Yorkshire, localised flooding away from rivers is also possible."
Despite the stormy conditions, temperatures are expected to remain above average, particularly in the south. Unseasonably warm temperatures of 13C and 14C will be seen in many regions, with warmer conditions of 15C expected in London. Scotland will feel the coolest weather, but even here daytime temperatures are unlikely to fall below 10C.
The summer-like conditions have further delayed the big "winter freeze" that was expected to hit the country as early as October. Some forecasters warned that Britain could face the "coldest winter in 50 years", mimicking 1963 when temperatures plunged to -20C and the River Thames froze. Instead, the UK saw the warmest November day on record on 1 November, with temperatures reaching up to 22.4C in Wales. Temperatures will remain relatively mild for the next week, but are expected to begin to drop towards the seasonal average by Friday (13 November).
© Copyright IBTimes 2023. All rights reserved.