UK weather: London and south east England on severe weather alert for snow and ice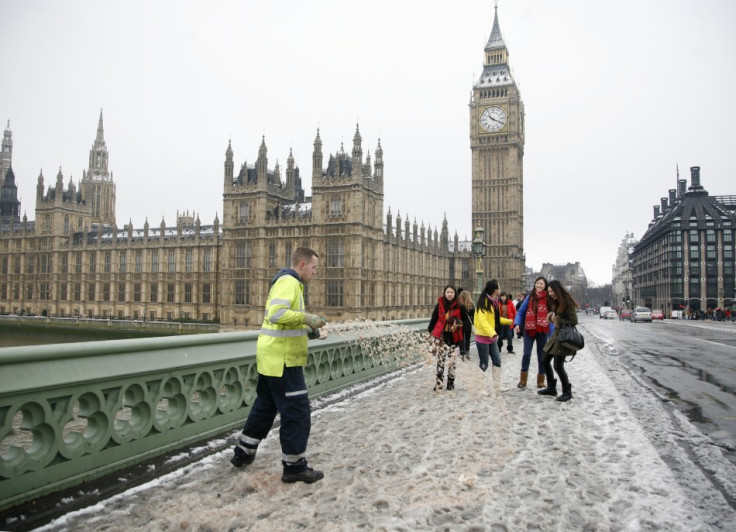 As temperatures drop to near freezing conditions across the country, cities in the south east were put on alert for snow and ice on 14 January. Forecasters are warning that snow showers will move south-eastwards overnight, however, ice is likely to be the main hazard in London and surrounding regions.
Almost all regions in the UK are currently on a severe snow and ice alert, with commuters being warned of difficult driving conditions during rush hour. The yellow 'be alert' snow and ice warning for the south east came into effect at 10.50am on 14 January. It is expected to be in place for just over 24 hours, with the Met Office predicting to lift it at 11am on 15 January.
A chief forecaster at the Met Office said: "Showers will become frequent on Thursday evening and heavy at times, increasingly turning to snow on high ground and inland, with a longer spell of sleet and snow moving south-eastwards. Ice is also likely to form on untreated surfaces."
Weather experts have said that one to three centimetres of snow is likely in England above 200m, however, smaller accumulations could also be seen on lower levels. The biggest hazard to the south east is expected to be the icy conditions, with some of the showers falling as sleet or rain. Hampshire is most likely to see snowfall in the south east.
Snow has already begun falling in other parts of the country earlier this week, with five to ten centimetres of snow accumulating overnight in Scotland on 13 January. Between two and four centimetres is believed to have settled across Wales and northern England.
Temperatures are expected to drop further over the next few days, with forecasters predicting lows of -15C in the north on 16 January. The rest of the country will also see temperatures well below freezing, with the southern-most tip of the country seeing lows of -4C. The hashtag #snow was trending in the UK on 14 January as people braced for the wintry conditions.
© Copyright IBTimes 2023. All rights reserved.