UK Weather Warning: England Next After 100mph Winds Hit Scotland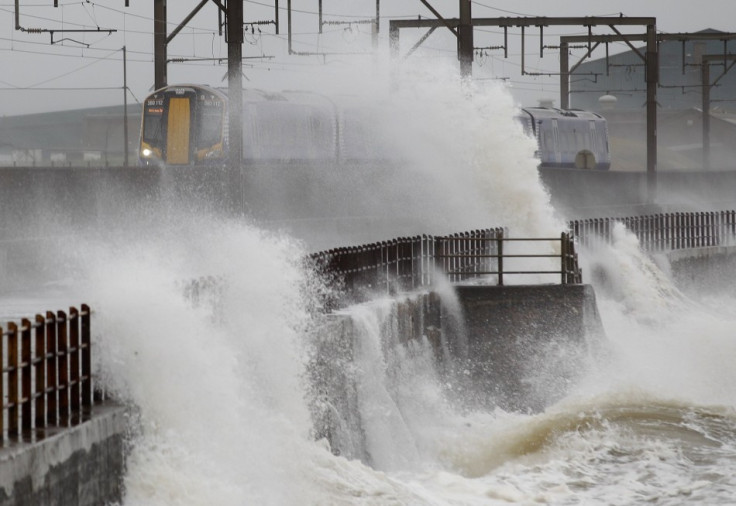 Gale-force winds currently battering Scotland could lead to "structural damage", says the Met Office, and are causing significant disruption to the nation's infrastructure.
The Met Office has several severe weather warnings in place - including its severest, a red alert - as wind, rain and snow sweeps across the area.
Some gusts are reaching speeds of 100mph.
Strathclyde, central areas and the Scottish borders will be worst affected.
It will spread to the Midlands in England by the evening, where there are also weather warnings, and temperatures in some parts of the UK will plummet below freezing at night.
"We can expect very severe gales, at wind speeds not seen for many years, across large parts of western, central and southern Scotland throughout Thursday," said a statement from Scottish deputy leader Nicola Sturgeon.
Transport Disruption Across Scotland
Scotland's two biggest airports, Edinburgh and Glasgow, are both open, but expecting delays and cancellations throughout the day.
"We're assessing the situation, though we are beginning to see disruption and cancellations," said a spokesperson for Edinburgh Airport.
He said passengers should contact their airlines before travelling and "only travel if necessary".
Bridges have closed, including the Erskine bridge near Glasgow, which is causing problems for public transport.
Elsewhere there are delays on bus and train services.
"Having considered the updated information received from the Met Office tonight, the police have advised that there is a probability that they will change their travel advice in the coming hours from warning about a high risk of disruption to a position where they will advise drivers to avoid travelling on the roads in the affected areas," said Sturgeon.
Scottish Schools Closed
Most schools in Scotland will close, with all schools in Edinburgh being told to shut by 12pm, leaving parents to make childcare arrangements or take time off work.
"On the basis of the earlier 'Red Warning' from the Met Office, some Councils had already taken the precaution of closing schools early to make sure that parents can safely collect children before the most dangerous weather and travel conditions arrive," said Sturgeon.
© Copyright IBTimes 2023. All rights reserved.