Severe weather warnings have been issued for the rest of this week, with the Met Office predicting rain, thunder and lightning as Britons head to the polls and to Glastonbury. The severe rain warning is expected to come into effect on 22 June evening and will remain in place until 24 June morning.
The worst of the thundery downpours will be seen along the east coast of England, with the south-east expected to be the worst hit region. Weather experts have warned the public about the risk of localised flooding and frequent lightning.
A chief forecaster for the Met Office said: "Increasingly warm and humid air will arrive from France later on Wednesday, bringing with it an increased risk of thunderstorms. Scattered but potentially intense thundery downpours seem likely to affect parts of the warning area from late Wednesday (22 June) and through Thursday (23 June)."
The arrival of the thundery showers coincides with the first day of the Glastonbury music festival, which is attended by thousands every year. In 2005, the festival was delayed due to thunderstorms as some areas were submerged under five feet of water.
The warning also coincides with the UK's EU referendum, with Britons heading to the polls on 23 June to vote on whether the UK should leave or remain in the EU. However, experts have said that the weather is unlikely to have an effect on voter turnout.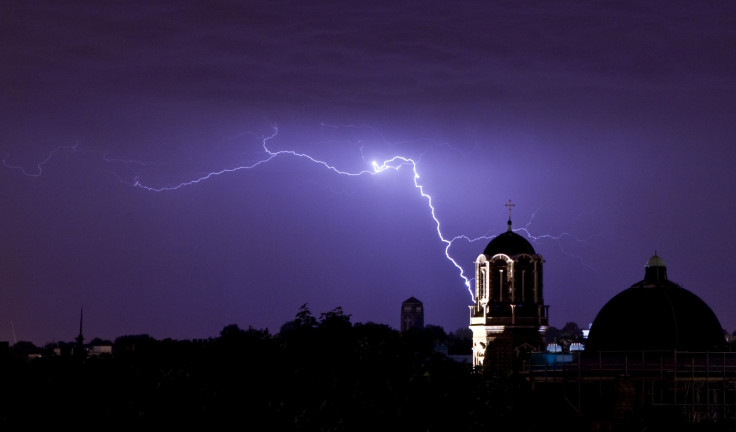 Anthony Wells, Research Director at YouGov, told IBTimes UK: "Common sense obviously suggests that people are less likely to go out in the pouring rain, but the actual evidence doesn't back it up very well. In past elections in this country when we've had different weather in different parts of the country, it hasn't produced a big difference in turnout."
Stormy conditions have been dominating much of Europe in recent weeks, with heavy flooding killing 17 people across the continent over the last month. France also endured one of the worst storms, which caused the River Seine in Paris to reach its highest level in 30 years on 4 June.