Ukip: £1m War Chest Gift to Beat David Cameron From Ex-Tory 'Mr Nobody' Arron Banks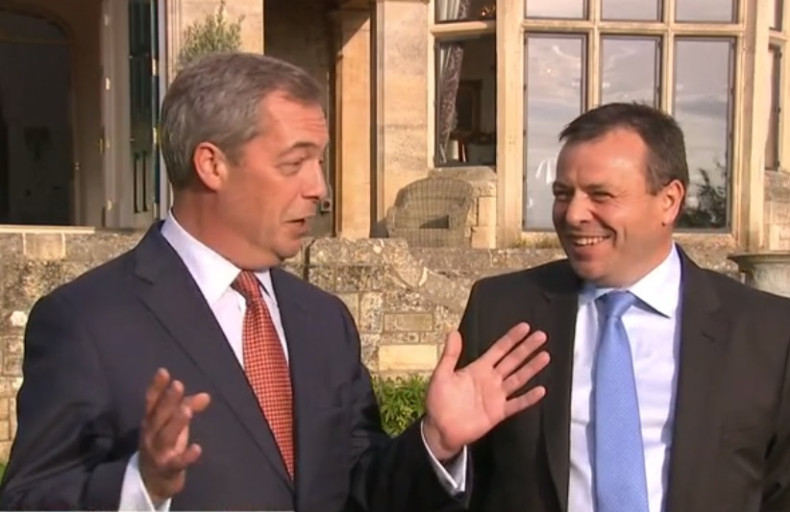 Nigel Farage dealt another blow to David Cameron just after his speech to the Tory conference by announcing Ukip is getting £1m from the latest Conservative defector.
Arron Banks – who made his millions in insurance – will inject the huge sum in to Ukip's General Election war chest for next year's campaign.
Former party donor Banks is the latest Tory supporter to abandon his support in favour of the anti-EU United Kingdom Independence Party.
The money now looks certain to be spent trying to unseat Conservatives in marginal constituencies which Cameron must hold if he hopes to still be Prime Minister after May 7.
Banks upped his donation by 10 times from £100,000, after being branded 'Mr Nobody' by Tory party heavyweight William Hague. Only hours earlier, Hague was lauded by Cameron in his speech.
For Ukip it means the party has bookended the Tory conference with defections to its ranks, after Mark Reckless MP left the party on the eve of the Birmingham event.
In a piece of canny stage management by Farage in Bristol, he said: "We've picked up defectors from parliament, we've picked up councillors. [But] one of the biggest barriers to success has been money. So for us the pledge of £1m is a very significant advance ahead of the general election next year."
The press call also was a chance for Banks – who took the unusual step for a donor of appearing on TV to announce the gift - to hit back after the "Mr Nobody" jibe.
The insurance millionaire said there were many others "in the business community" who wanted to donate to Ukip, and suggested he could yet stand as an MP for Ukip.