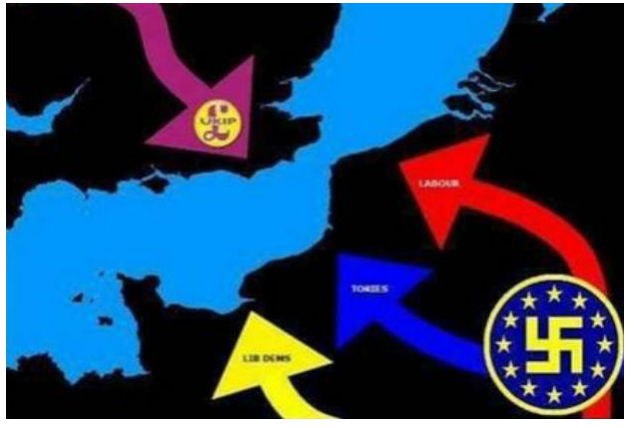 Ukip are facing heavy criticism for a spoof Dad's Army poster comparing their political rivals to Nazis.
The poster, released by the party's Newport branch, spoofs the opening credits of 70s British sitcom Dad's Army, about a group of home guard veterans defending Britain from Adolf Hitler's army in World War II.
The graphic features three arrows aimed at Britain, marked "Labour", "Tories" and "Lib Dems". In the Dad's Army credits, the arrows depict the approach of the Nazis.
The poster is accompanied by a Swastika inside the EU logo, and a modified version of the opening line of the Dad's Army theme music, asking "Who do you think you are kidding, Mr Hitler, if you think old England's done?" In the Ukip version, the name is changed to "Mr Cameron".
The image was taken down from Facebook, but not before it had received more than 10 likes, according to the South Wales Evening Post.
Ukip's local political rivals have responded vigorously.
Jess Morden, Labour MP for Newport East said: "For Ukip to use a Nazi symbol on a graphic is simply abhorrent. It is clear that a dangerous extremist bloc within Ukip are becoming more prominent. Ukip need to take action."
Morden's rival for the Newport East seat, LibDem Paul Halliday, said: "To somehow equate the other parties with Nazism and to say that Europe is Nazism is naive, distasteful and downright disgusting. One of the great things about the EU is the peace it has brought to Europe for so long."
Tory candidate Natasha Asghar added: "I think it's highly insensitive and disgraceful of Ukip to do such a thing. I'm doing all I can to promote community cohesion and sticking a swastika up isn't helping anybody."
'Hypocrisy'
A Ukip spokesperson hit out at the perceived hypocrisy of the coverage when contacted by IBTimes UK, asking: "Do you know how often people call us Nazis and use Swastikas? Why are there no articles about that?
"Bear in mind it was a satirical photo about totalitarianism and Dad's Army. Not sure why these things make news.
"Why's no-one reporting on the totalitarianism of the EU? Did you know the parliament has barely passed any legislation this year? It's a zombie parliament. But, yet again, no interest from the media."
The spokesperson added that "they [the Newport East branch] have been talked to".
Nigel Farage's party also released a statement about the graphic, saying: "The posting on the Newport East Facebook page may be in bad taste. However the confected outrage of the local Labour party is even more over the top.
"It must have passed their notice that the branch sees itself as fighting totalitarianism, not supporting it."