Ukip leadership row: Watch Nigel Farage issue ominous 'it's going to have to end' warning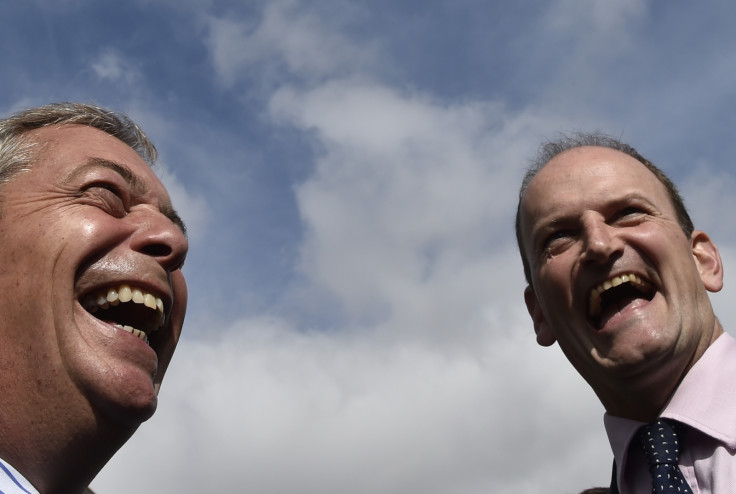 Nigel Farage is not keeping quiet after Douglas Carswell said Ukip needed a "fresh face" at the head of the party. The Eurosceptic firebrand first told the Clacton MP to "put up or shut up" and later aimed an ominous warning at the former Conservative on 18 December.
"I have the unanimous support of the Ukip National Executive, the unanimous support of Ukip's MEPs and amazingly, 91.4% of Ukip voters in a recent opinion poll support my leadership — my position has never been more secure," Farage told BBC 2's Daily Politics show.
---
Analysis: Who could replace Farage as Ukip leader?
---
"There's one person who doesn't agree with all of this. We cannot have one individual, every single time there's a Ukip conference it finishes with a story of disunity, and it's all being caused by one person. And frankly I think it's going to have to end."
The latest row at the top of the anti-mass immigration party broke out after Carswell taunted Farage's post-Oldham West by-election outrage and effectively called for a new Ukip leader during a BBC interview.
"Let's not do what we did the day after the Oldham by-election and blame the voter, let's not pretend it's all due to postal ballots. You know they had postal ballots here in Clacton too and I don't remember anyone blaming postal ballots then," he said.
It's all being caused by one person and it's going to have to end - @nigel_farage on trouble in @ukip #bbcdp https://t.co/i6JftGe8TH

— DailySunday Politics (@daily_politics) December 18, 2015
"If you are in the business of doing democracy for a living you need to accept the democratic verdict, and the punter didn't take what we had to offer."
The war of words come after Carswell had a run-in with Ukip donor Arron Banks at Ukip's September conference at Doncaster Racecourse. Banks had founded the Leave.EU campaign but the Clacton MP had decided to join its Brexit rival Vote Leave – a point of contention between the pair. The drama overshadowed the whole event.
Elsewhere, Carswell fell out with Farage over how much short money (public cash for opposition parties in the House of Commons) Ukip would accept after the general election. And the 51-year-old urged Farage to "take a break" after the Ukip leader's sensational un-resignation.
The timing of Carswell's latest attack against Farage has been questioned, since the EU referendum is expected to be held sometime in 2016 and the Clacton MP has ruled himself out of the running for Ukip's top job.
© Copyright IBTimes 2023. All rights reserved.