Ukraine: 14 Dead after Wounded Ukrainian Troops Blow Themselves Up to Avoid Capture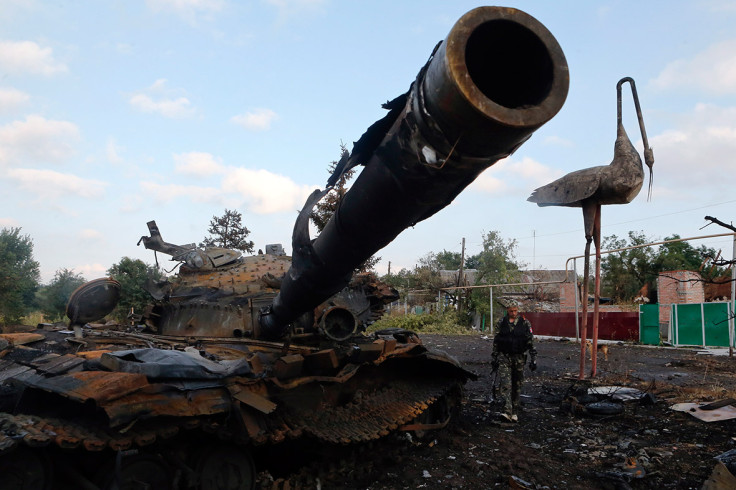 Fourteen soldiers have been confirmed dead after two Ukrainian troops blew themselves up to prevent capture by Russian forces.
The two soldiers, majors Alexander Kadesjuk and Alexei Shepeljuk, had been seriously wounded and used grenades to kill themselves during the fierce fighting in the tumultuous border region of Donetsk.
The explosion also killed 12 Russian paratroopers, Ukraine's Ministry of Defence reported today [29 August].
According to witnesses, Kandesyuk and Shepelyuk, members of the 51st brigade of the Ukrainian army, were initially wounded while trying to escape encirclement by a much larger Russian force.
One anonymous witness told Ukraine's defence ministry "there was practically no chance to survive in such hell, so it was decided [by the Ukrainian troops] to break through the encircling forces.
"The majors Olexander Kandesyuk and Olexiy Shepelyuk, who was the commander of an anti-aircraft missiles battery, headed the advanced guard of the breakthrough group. [However] the advanced guard was caught in an ambush."
Kandesyuk was wounded by a machine gun, while Shepelyuk was also hit as he tried to help his comrade.
The Russian soldiers, members of the 331<sup>st paratroopers' regiment, then surrounded the Ukrainian troops and tried to take them prisoner.
As the Russian troops edged closer, the injured Ukrainians stood up and raised their hands. Shortly afterwards, witnesses claim one of the soldiers released their grenade, causing a huge explosion.
It is thought that the incident took place on 25 August.
Crisis continues
According to Nato, Russia has sent more than 1,000 troops over the border into Ukraine as the crisis around Donetsk and Luhansk continues to rage.
Nato condemned Russia's actions today [29 August], claiming its troops have "illegally crossed the border" in an attempt to exacerbate the crisis in Ukraine and further destabilise the country.
© Copyright IBTimes 2023. All rights reserved.