Ukraine Celebrates Independence Day Amid Fighting in Rebel-Held East
Hundreds of soldiers march in a military parade in Kiev as Ukrainian President Petro Poroshenko pledges $3bn to re-equip the army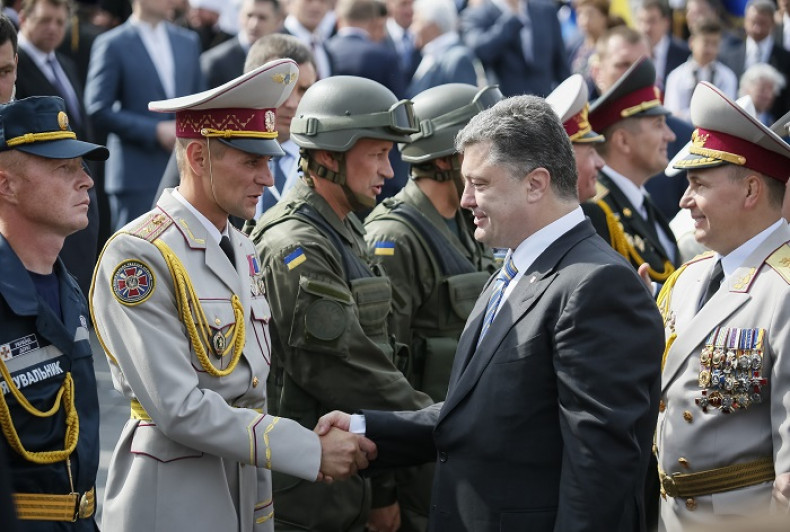 Ukraine is commemorating its Independence Day with a military parade in Kiev on Sunday, amid ongoing fighting in the east of the country.
Hundreds of servicemen marched in a military parade in the capital to mark 23 years since Ukraine declared independence from the Soviet Union in 1991.
Scores of people attending the event wore Ukraine's national colours of blue and yellow, and sang the national anthem as the country's flag was raised.
Speaking to a crowd of thousands, Ukrainian President Petro Poroshenko said the country faced a military threat "for the foreseeable future" and pledged to spend $3bn (£1.8bn) to re-equip the national army.
"It is clear that in the foreseeable future, unfortunately, a constant military threat will hang over Ukraine," he said.
"And we need to learn not only to live with this, but also to be always prepared to defend the independence of our country. I am convinced that the battle for Ukraine, for independence, will be our success."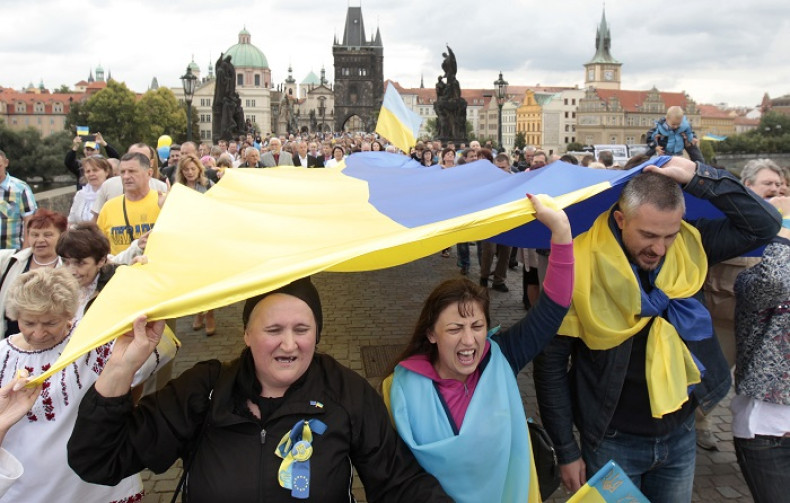 He added: "War has come to us from over the horizon where it was never expected. In the 21st century, in the centre of Europe, there is a flagrant attempt to breach the border of a sovereign state without declaring war. It is as if the world has returned to the 1930s: the eve of World War II."
Wreaths were laid to those killed during the winter protests that led to the ousting of former pro-Moscow president Viktor Yanukovych.
Meanwhile, pro-Russian rebels in the east of the country reportedly said they were planning to hold their own celebrations.
Shortly before the parade began, a hospital in the rebel-held eastern city of Donetsk was hit by shelling, with the morgue bearing the brunt of the attack. The UN estimates that 2,000 people have died in the conflict since April.
The Independence Day celebrations come a day after a convoy of Russian aid lorries left Ukraine following condemnation by the EU and the US of Russia's illegal incursion into Ukrainian territory.
History of Ukraine's Independence Day
In 1922, Ukraine became one of the original constituent republics of the Union of Soviet Socialist Republics.
The Independence Day celebrations commemorate the anniversary of the Ukraine's independence from the Soviet Union, after it declared its independence on 24 August 1991, following a failed coup against Mikhail Gorbachev.
Independence Day is a national public holiday in Ukraine, and many shops, public buildings, government offices and educational institutions close.
Celebrations typically consist of fireworks, concerts, outdoor exhibitions and sporting events.