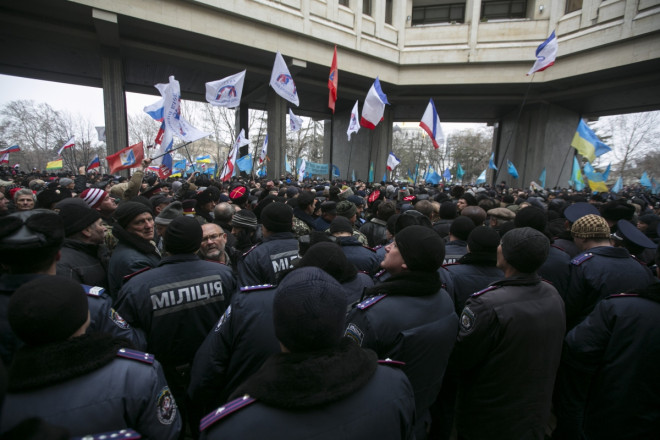 Russian president Vladimir Putin has ordered a major military drill by the Ukrainian border as clashes between pro-Kiev and pro-Moscow protesters in Crimea left at least one person dead.
Defence minister Sergei Shoigu said a four-day test of combat readiness, and involving 150,000 troops, 880 tanks, 90 aircraft and 80 naval vessels would start in western Russia.
"The drill will take place on Russia's border with other countries as well, and Ukraine may be among them," Shoigu told Itar-Tass news agency.
Shoigu denied the operation was related to the political crisis in its southern neighbour. "Generally speaking, it is not. We do not relate these things in any way," Shoigu said.
He added that Russia was stepping up security at its installations in Ukraine's Crimean peninsula, where it has a large naval base of 25,000 troops in the port of Sevastopol, home of the Black Sea Fleet.
"We're watching close everything that's happening around the Black Sea Fleet," Shoigu said.
The Globe and Mail newspaper reported that Russian troops had taken control of the main routes to Sevastopol and a military checkpoint was set up on the main highway connecting the port city to the regional capital of Simferopol.
Russian military movements have been reported in the region for 24 hours. Foreign minister Sergei Lavrov said he was worried by the actions of Ukrainian "radicals and nationalists".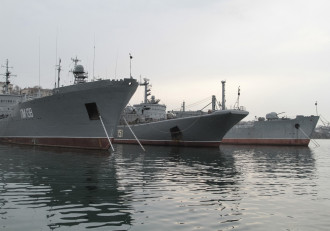 The sabre-rattling followed the flare-up of tensions in Ukraine after the revolution that toppled Kremlin-backed president Viktor Yanukovich.
The conflict has stirred up divisions between ethnic Russians, who support the fugitive president, and ethnic Ukrainians, who led the-three-month protests that ousted him.
The strain between the two factions is strongest in Crimea, the only region where ethnic Russians make up a majority of the population.
Fights broke out in Simferopol between rival groups demonstrating outside the parliament building.
About 20,000 Muslim Tatars, who have sided with ethnic Ukrainians, clashed with a smaller pro-Russian rally.
The protesters shouted and attacked each other with stones, bottles and punches, as police and leaders of both rallies struggled to keep the two groups apart.
Medical official said at least 20 people were injured and one person had died from an apparent heart attack.
Protesters had gathered outside the parliament because it was believed that Crimea's status and possible secession were being debated.
The issue was not addressed, however, and the crowd dispersed.
"The threat of separatism has been eliminated," Refat Chubarov, the leader of the Tatar community in Crimea, told the crowd.
Crimea, which is an autonomous region, was transferred from Russia to Ukraine in 1954.