Ukraine Crisis: German FM Steinmeier Warns Moscow and Kiev Against Military Escalation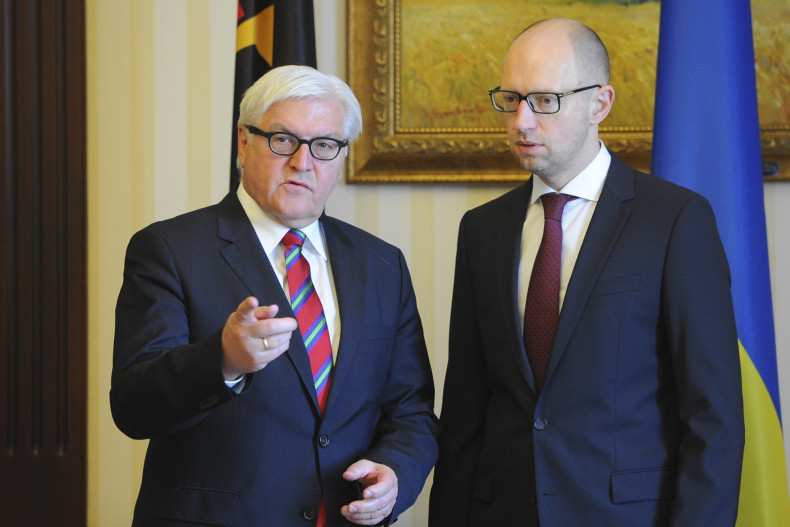 Germany's Foreign Minister Frank-Walter Steinmeier has urged Moscow and Kiev to de-escalate tensions amid reports of a military build-up in Ukraine's the restive east.
Steinmeier said that a return to military confrontation two months after the signature of a frail ceasefire would hurt all parties to the conflict.
"In this situation it makes no sense to re-arm in the region and to prepare for further military confrontation. It helps no one, we just lose time," he said.
Steinmeier spoke after the Ukrainian government said it was preparing for an all-out war, as Nato accused Russia of funnelling large amounts of military equipment and troops, into the region.
Ukrainian Defence Minister Stepan Poltorak told a cabinet meeting that the military was redeploying forces in the Donetsk and Luhansk regions, and that they were getting ready for combat.
Meanwhile, Nato said they observed columns of Russian tanks, artillery, and combat troops crossing into Ukraine in the past two days.
"We have seen columns of Russian equipment, primarily Russian tanks, Russian artillery, Russian air defence systems and Russian combat troops entering into Ukraine," the military alliance's top commander, US General Philip Breedlove, told AFP.
Earlier this week, monitors with the Organisation for Security and Cooperation in Europe (OSCE) said they witnessed a "convoy of 43 unmarked green military trucks, with tarpaulin covers," just outside the rebel stronghold of Donetsk heading towards the city centre.
Russian Defence Ministry official, General-Major Igor Konashenkov, said that "there was and is no evidence" behind Nato's statements.
Germany has been among the most active nations in trying to secure a diplomatic solution to the crisis in eastern Ukraine.
Only two days ago, Steinmeier had again called on all sides to respect the ceasefire that had started to look increasingly perilous.
"Unfortunately, the situation is again serious. I now think that we must call upon all those involved in this conflict, as well as the Russian side, to return again to the terms of the Minsk protocol," he said.
The shaky truce was agreed between Kiev and separatist insurgents in September in Minsk, although sporadic fighting has continued ever since with hundreds of people killed.