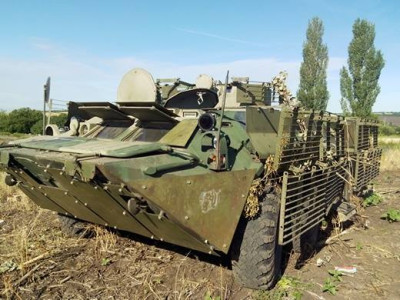 Ukrainian officials said government troops seized a Russian armoured vehicle used by separatists in the restive East, saying it was undeniable evidence Moscow has been actively supporting the rebellion.
Interior Minister Arsen Avakov posted a photo of a BTR-80 armoured personnel carrier on Facebook which he said was captured during fighting near the city of Marinovki.
Inside the vehicle, government troops found a logbook showing it had left a Russian military base at the end of May, the minister said backing up his claim with a picture of the document.
"Note the seal of the Russian military. This is for diplomats and doubters," Avakov wrote.
Meanwhile, pro-Russian insurgents were seen operating tanks near the town of Yanakiyeve in the separatist Donetsk region.
A column of two tanks and three armoured personnel carriers was intercepted by an AP reporter, as it travelled towards the town of Horlivka.
The unmarked vehicles flew small pro-Russia militia flags. Fighters on-board declined to say what they were doing, other than it was a "secret operation".
Moscow has denied helping rebels in Ukraine, while Kiev has long maintained fighters and military equipment have been coming into the country from the Russian border.
Leaked details of a 14-point peace plan proposed by Ukrainian president Petro Poroshenko emerged today, included the creation of a 10-km (6.25-mile) buffer zone on the border with Russia aimed at stopping the flow of men and weapons.
An unofficial copy of the document published by Ukrainian media also included a promise to decentralise power from Kiev and to hold early local and parliamentary elections.
A safe corridor allowing insurgents to leave conflict areas and the pledge to spare fighters who surrender and have not committed serious crimes from prosecution, were also listed.
Earlier this week Poroshenko announced it was his intention to call a ceasefire to allow pro-Russian insurgents to lay down their arms.
Rebel leaders however have already dismissed the plan and are continuing to fight.
Vladislav Seleznev, spokesman for Ukrainian forces in the east, said seven Ukrainian soldiers were killed and 30 injured near the village of Yampil. Seleznev also claimed that 300 rebels were killed during the clashes.