A city bus was hit by an artillery shell in Donetsk, eastern Ukraine, killing up to 13 people.
The shell struck the vehicle, instantly killing passengers and blowing out the windows of a nearby building.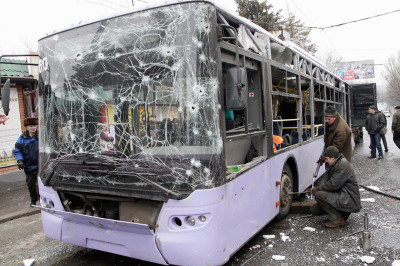 It was unclear on Thursday (22 January) who was responsible for the attack. Pro-Russian rebels blamed the Ukrainian army.
Ukrainian Prime Minister Arseny Yatseniuk blamed the rebels. At a ceremony to mark Unity Day in Kiev, he said: "Russian terrorists have today committed another horrible act against humanity. And responsibility for that lays on the Russian Federation."
Fighting between Ukrainian government troops and separatist forces surged after the New Year following a month of relative tranquility after a truce was declared in early December.
Last week, 13 civilians were killed as a commuter bus from Donetsk was hit by a shell in the near town of Volnovakha.
Kiev government forces have withdrawn from the new terminal at the main airport in Donetsk, a symbolic target where heavy fighting has been taking place for months. Six Ukrainian servicemen had been killed in the past 24 hours in fighting there, Kiev officials said.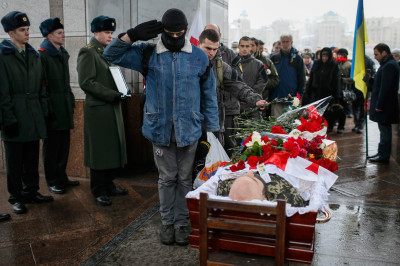 A law is being prepared to increase the size of the Ukrainian armed forces by 68,000 personnel to a total of 250,000, Yatseniuk said on Wednesday. Of this figure, 204,000 would be soldiers.
More than 4,700 people have died because of the conflict since April last year.