Ukraine Crisis: Crimea Votes to Join Russia as EU and US Eye Sanctions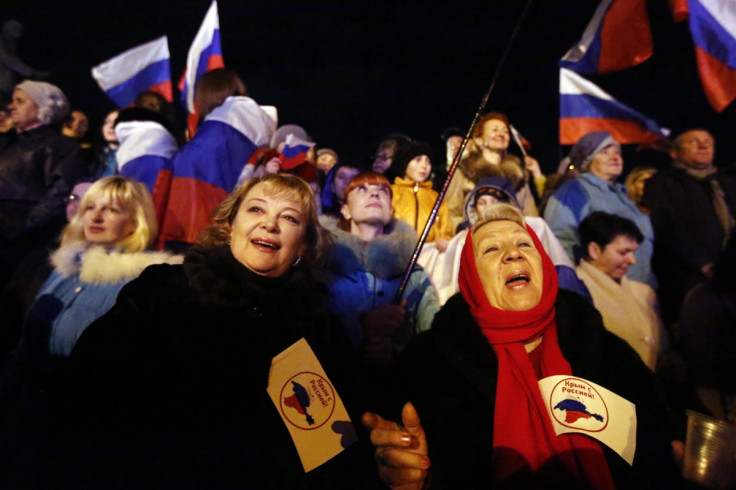 Crimea parliament has formally voted to declare independence from Ukraine following an overwhelming outcome from the referendum to secede from Kiev rule and join Russia, according to reports.
A formal application to join Russia was sent after 93% of Crimea residents reportedly voted in favour of the split, in a referendum that the US and the EU say violates the Ukrainian constitution and international law.
Crowds of pro-Moscow voters celebrated in the main city of Simferopol, but some Crimeans loyal to Kiev boycotted the vote.
US president Barack Obama told Russian president Vladimir Putin that the Crimean vote occurred "under duress of Russian military intervention" and would not be recognised.
The British foreign secretary William Hague denounced the referendum as a "mockery of proper democratic practice" and said that Russia must now face "economic and political consequences".
Washington and Brussels are due to announce a set of sanctions against Moscow, including visa bans and potential asset freezes.
Germany's Bild tabloid cited a list of 13 Russian politicians and businessmen that would be targeted by the visa bans. The list includes defence minister Sergei Shoigu, deputy prime minister Dmitry Rogozin, head of presidential administration Sergei Ivanov, secretary of the National Security Council Nikolai Patrushev and other advisers close to the president Vladimir Putin.
According to Bild, visa bans could also target Alexei Miller, chief executive of Russian energy firm Gazprom, and Igor Sechin, head of Russia's top crude oil producer Rosneft.
Russia's lower house of parliament is expected to pass a law that will allow the Black Sea peninsula to join Russia "in the very near future".
"The results of the referendum in Crimea clearly showed that residents of Crimea see their future only as part of Russia," the deputy speaker of the State Duma, Sergei Neverov, was quoted as saying.
The situation is also worsening in eastern Ukraine, where thousands of people have staged pro-Russian protests, raising fears over another possible military intervention by Russia.
Russia's military assault in the Crimean peninsula - part of Russia until 1954 and host to its Black Sea fleet – came after the removal of Ukraine's pro-Moscow President Viktor Yanukovich on 22 February.
© Copyright IBTimes 2023. All rights reserved.