Almost every building was gravely damaged, nearly every window smashed in the Ukrainian town of Debaltseve. Months of relentless shelling have left it almost unrecognisable.
Ukrainian government forces fled Debaltseve in disarray, leaving the Russian-backed separatists in total control of the strategic town.
Most of Debaltseve's 26,000 residents fled during the fighting. But, according to the Red Cross, as many as 5,000 stayed behind, many too elderly to flee.
Locals seeking shelter from weeks of intense bombardment hid in the cellars of apartment buildings, many of which now lie in ruins.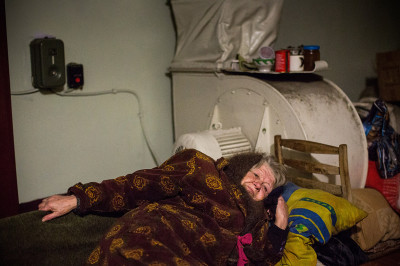 After the town fell, it took several days for the Red Cross to deliver five trucks carrying food because of the presence of mines still buried in the roads.
Large crowds of people turn up in the town centre to queue up for humanitarian aid. Elderly people and children crowd around stalls where people hand out paper plates filled with porridge.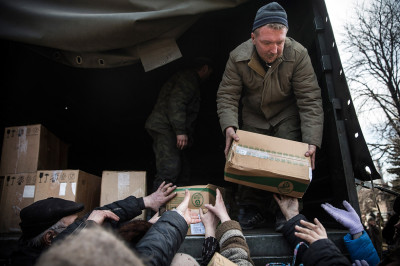 The Debaltseve residents who stayed behind directed their anger almost exclusively at the Ukrainian forces, although the bulk of the damage to the town appeared to have been caused by separatist shelling.
"I hope they kick the Ukrainians out of the Donbass region, so we can live peacefully. We will rebuild all this through collective effort," said Ina Morozova, a 48-year-old railway signal operator. "We'll survive. Where else are we to go?"
Kiev and its Western allies say they fear the rebels, backed by reinforcements of Russian troops, are planning to advance deeper into territory the Kremlin calls "New Russia". Moscow denies aiding the rebels.
The war in eastern Ukraine has killed more than 5,600 people and forced over a million to flee their homes since fighting began in April, a month after Russia annexed Crimea.