Ukraine's Central Election Commission (CEC) has turned away from the Dark Side by rejecting the presidential bid of Star Wars villain Darth Vader.
The Sith Lord from the Star Wars saga, an unusual candidate for the Ukrainian Internet Party (UIP) for May's election, announced his intention to run flanked by supporters dressed as imperial stormtroopers.
"I alone can make an empire out of a republic, to restore former glories, to return lost territories and pride to this country," Vader said in a statement.
Vader's application was rejected by the CEC after it found irregularities in the data provided by the party. The Interior Ministry has reportedly opened a criminal case for data falsification.
"It might seem like an innocent joke. But for this joke someone paid UAH 2.5 million (£131,000). Someone who benefit from turning presidential elections into a farce. We should also take into account the special attention of some Russian media to this story," said CEC representative Igor Zhydenko.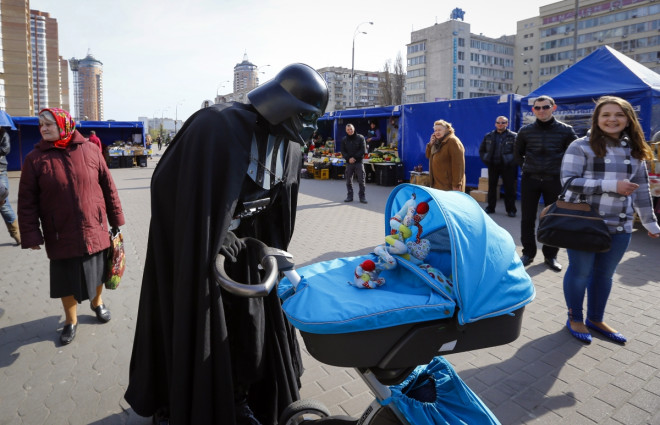 He encouraged Darth Vader to present his candidacy in Russia. "A commander in chief will be welcome there as there are already little green men," he said.
The Sith Lord has already been involved in several political stunts.
In November 2013, he was carried by his stormtroopers to Odessa city hall and declared himself mayor.
He also demanded a plot of land in the city to park his space ship.
Darth Vader scored 3% in 2012 parliamentary elections, according to his party. However, it did not count because Ukrainian law does not recognise write-in candidates.