Two criminal masterminds who bragged they were "officially gangsters" have been found guilty at the Old Bailey of smuggling a £100,000 haul of 31 automatic weapons into the UK, it was reported on 21 April.
Harry Shilling, 25, of Swanley, Kent, and Michael Defraine, 30, of Bexleyheath, concocted a plan to ship 22 AK-47-type weapons and nine Skorpion sub-machine guns, some of which were bought from the same shop in Slovakia used by terrorists in the Charlie Hebdo and Hyper Cacher massacres in Paris, November 2015.
The guns had been decommissioned but, somewhere along their route to the UK, had been reactivated again. The pair, along with five other gang members, were arrested in August 2015 after a boat sailed from Boulogne, France, with the weapons and more than 1,500 rounds of ammunition, two silencers and 58 magazines.
Defraine and Shilling were detained by armed National Crime Agency officers outside a DIY store in Orpington, where they had just purchased spades and pick-axes to bury the weapons.
The pair exchanged messages stating that they were "armed to the teeth" and were "officially gangster" after learning that the boat they used to bring the weapons to the UK had arrived in Kent. They did not know that the cache had been under surveillance for days before and remained unaware that the shipment was about to be seized by armed officers from the NCA and Kent Police.
During the trial, it emerged Shilling paid as little as £38 each for the firearms, which he hoped to later sell for as much as £250,000. The 25-year-old was described as Keyser Soze, the fictional character from the 1995 film The Usual Suspects. Defraine was the "go-between" whose job it was to transport the guns.
In the dock alongside them were John Smale and Jennifer Arthy, who were both found not guilty of importation of firearms and conspiracy to possess firearms with intent to endanger life. Three other men, including David Payne who sailed the boat carrying the guns, had already pleaded guilty. All seven will be sentenced on 13 May 2016.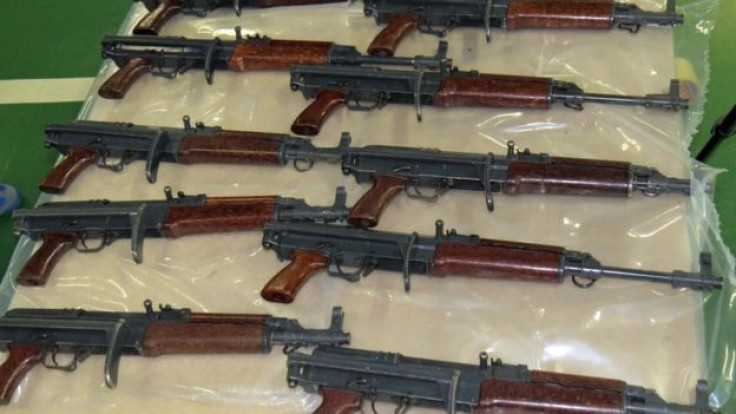 NCA Head of Specialist Operations, Rob Lewin, said: "This seizure of automatic weapons was the largest ever made by the NCA – and, we believe, the largest ever on the UK mainland. These are hugely powerful firearms, and have, as the prosecution stated in court, a 'truly devastating capability'.
"We cannot say for certain what the organised crime group would have done with the weapons had they not been stopped. But the evidence pointed to them not being afraid to use guns themselves to expand their influence. They wanted to move up in the criminal world from regional to international gangsters.
"The group was motivated by profit, so we can only speculate that some of these weapons would have been sold to whoever had the means to pay the asking price."