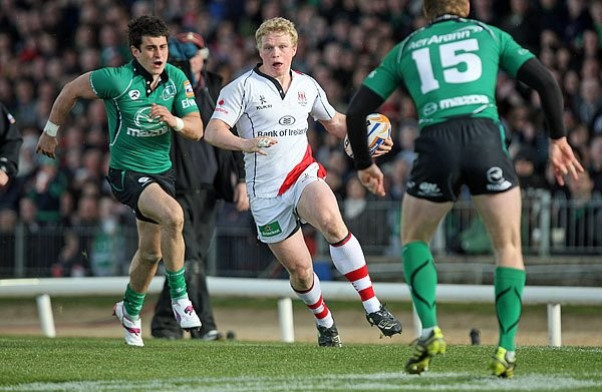 Ulster and Ireland Wolfhounds rugby centre Nevin Spence has died after falling into the slurry tank of a farm in Hillsborough, County Down, about ten miles from Belfast, on 15 September. The 22-year-old established himself as a regular in the Ulster squad in recent seasons, playing 42 times.
The accident also claimed the lives of two other men, aged 52 and 30, believed to be his father and brother. A fourth person, a woman reportedly his sister, also fell into the tank and was taken to a nearby hospital where she is recovering from the effects of inhaling fumes.
Slurry is a combination of cow manure and water and is used as fertilizer.
Spence and the other victims were pulled from the tanks by firemen. Two of them were declared dead at the scene, while the third man was taken to hospital, where he died soon afterwards.
"One of the four showed initial signs of responding to the efforts of the crews and was transported immediately to the nearby Lagan Valley Hospital, where unfortunately he died a short time later," the Guardian quoted a spokesman for the Northern Ireland Ambulance Service.
"Despite the best efforts of all involved the other two men died at the scene. A female was treated at the scene and taken to the Royal Victoria Hospital where she is recovering from the effects of fume inhalation," he added.
"On behalf of all our members, I would like to extend our deepest sympathies to the family involved. This news has shocked the farming community," the BBC quoted the Ulster Farmers' Union president Harry Sinclair, who added, "Our thoughts are with the family and friends of the three men who have so tragically lost their lives. We understand that a fourth member of the family has been hospitalised and we pray that they will make a full recovery."
Northern Ireland First Minister and Democratic Unionist Party leader Peter Robinson expressed his sympathies, tweeting: "Deeply saddened to hear of the tragedy in Hillsborough this evening. My thoughts and prayers are with family at this time of devastation."
Northern Irish golfer and world number one Rory McIlroy tweeted: "Just heard the tragic news of Nevin Spence and his family. Makes you cherish every day you have on this Earth."