The Executive Secretary for the UN's Framework Convention on Climate Change (UNFCCC) is confident that movement towards environmental action is "unstoppable", despite threats by US President Donald Trump to pull out of the UN climate deal – the Paris Agreement.
Patricia Espinosa – appointed as treaty chief in May 2016 – will head to the US on Sunday (February 26) to meet the Secretary of State Rex Tillerson.
The UNFCCC aim is to "stabilize greenhouse gas concentrations in the atmosphere at a level that would prevent dangerous anthropogenic interference with the climate system". Speaking to the BBC, Espinosa hailed the start of a "transformation" after seeing a reduction in emissions from businesses across the US.
"A lot of US businesses are really going into the agenda of sustainability and some are making their own commitments in emissions reductions in their own operations.
"In International Petroleum Week, I was very encouraged to hear how much some of the oil and gas companies are realising that the future of their industries is in a transformation into clean energy companies - and they have embraced this in their own interest.
"The transformation has started. I think it's unstoppable."
As part of its contribution to the UN's clean energy programme, the Paris Agreement, the US donates $4m (£3.2m) each year, with an added $2m (£1.6m) in voluntary funding. However, Trump has triggered alarm bells following claims he would not only stop funding for the agreement, but also pull the US out of the UN's climate deal.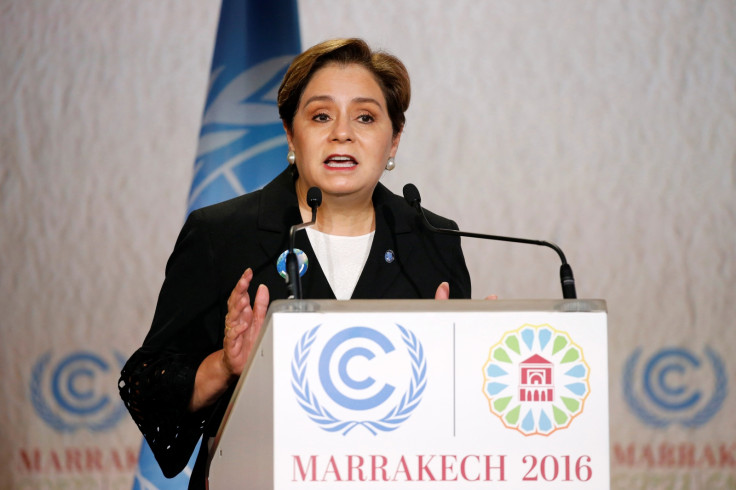 A report in the Independent alleged that Trump's daughter Ivanka and her husband Jared Kushner had convinced the US President to remove criticism of the agreement in his anticipated executive order.
During his presidential campaign, Trump had admitted his plans to withdraw the US from the Paris Agreement, although conceding he "had an open mind".
Espinosa, the 58-year-old former Mexican foreign minister, admitted she had concerns over the potential of a US exit from the treaty, but would be doing everything in her power to persuade Trump to reform his stance.
"We are of course worried about rumours of the possibility of the US pulling out of the Paris agreement and the convention on climate change," said the ex-diplomat.
"It would be very bad if there were a change of position in the US. That's why I'm looking forwards to engaging with the US as a partner."
Trump has been a known skeptic of global warming, once describing it as a "hoax created by and for the Chinese in order to make US manufacturing non-competitive".