UN General Secretary Ban Ki-moon has spoken out about tensions on Jerusalem's holy Temple Mount, saying the "provocations" by Israelis and Arab Muslims must stop.
Speaking to reporters in New York, Ban said: "I express my deep concern over the provocations on the holy sites in Jerusalem, which only cause tension at a time both sides need to make their way towards the negotiating table".
Temple Mount is one of the holiest and most aggressively-charged sites in the world, with fights between Muslims and Jews occurring weekly.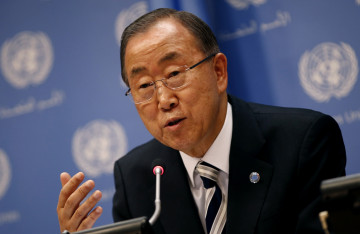 Earlier this month, dramatic scenes broke out when Israeli police stormed a riot by Palestinian youths after morning prayers, and barricaded them inside the mosque.
It is the site of the Al-Aqsa Mosque, the third most holy place in Islam after Mecca and Medina. Muslims entering the hilltop compound, which they call Haram al-Sharif, regularly complain of being attacked by Israeli police.
Jewish worshippers, who believe the Mount was the home of the two Biblical Temples, say they are routinely banned from entering the area or from praying on the land, and accuse ministers of "racism" in the segregation.
Ban also voiced his concerns over the stagnation of the peace process in the Middle East, and stressed efforts to rebuild Gaza in the wake of this summer's 51-day war must be redoubled.
"Do not spare efforts to reconstruct Gaza, and do not waste time relaunching the peace talks there", he said.
The UN head visited the Gaza Strip, the West Bank and Jerusalem last week. He met with Palestinian and Israeli officials and condemned Israeli bids for building further settlements.