United Nations Secretary-General Ban Ki-moon says the bombing of a UN-run school in Gaza by Israel in which 10 people are thought to have died was a "moral outrage and a criminal act".
Pointing out that Israel had been "repeatedly informed of the location of these sites" Ki-moon called for those responsible to be held to account, calling the action a "gross violation of international humanitarian law".
The comments raise the prospect of legal action once hostilities in Gaza cease.
The Israeli missile is believed to have landed a few yards from the school's entrance. Thirty people were wounded in the attack, the second one near a UN-run school in less than a week.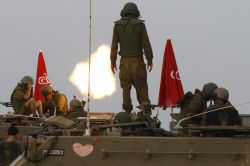 In a month of conflict over 1,700 Palestinians and 66 Israelis have died.
The UN's Middle East Special Coordinator Robert Serry also condemned the attack, which Israel says it is investigating.
"It is simply intolerable that another school has come under fire while designated to provide shelter for civilians fleeing the hostilities," said Serry.
Fifteen Palestinians died on Wednesday in Jabalya when Israeli artillery hit a UN school.
Israel has withdrawn many of its troops from Gaza but refuses to provide any timetable of when hostilities will cease, refusing to send negotiators to peace talks in Cairo where delegates from Hamas and Islamic Jihad arrived to meet US and Egyptian officials.
Haaretz quoted an Israeli official as saying, "There's no point in promoting an agreement. We're not talking about cease-fires anymore. Israel will act in its own interest. We will take action against attacks from Gaza, and will finish dealing with the tunnels."
The European Union added its condemnation, urging an end to the "bloodshed" in Gaza and calling for negotiations between Israeli and Palestinian leaders toward a political solution as the only way to "bring lasting peace".
The leaders of the 28-nation bloc's executive branch, European Commission President Jose Manuel Barroso and Council President Herman Van Rompuy, said on Sunday that the EU stands ready to support negotiations and reconstruction, according to an AP report.
They said "the bloodshed needs to stop" because previous cycles of violence between Hamas and Israel have shown "limits regarding what military operations can achieve" — leaving only a negotiated two state-solution as a real way forward.
Meanwhile, Labour leader Ed Miliband and David Cameron's Conservatives embarked on a war of words over the crisis. Miliband accused the Tory leader of being quiet about Israel's actions. "His silence on the killing of hundreds of innocent Palestinian civilians caused by Israel's military action will be inexplicable to people across Britain and internationally," said Miliband.
A Downing Street spokesman responded: "The PM has been clear that both sides in the Gaza conflict need to observe a ceasefire. We are shocked that Ed Miliband would seek to misrepresent that position and play politics with such a serious issue."