Gaza Strip: '10 Palestinians Killed' as Israeli Airstrikes Hit UN School in Rafah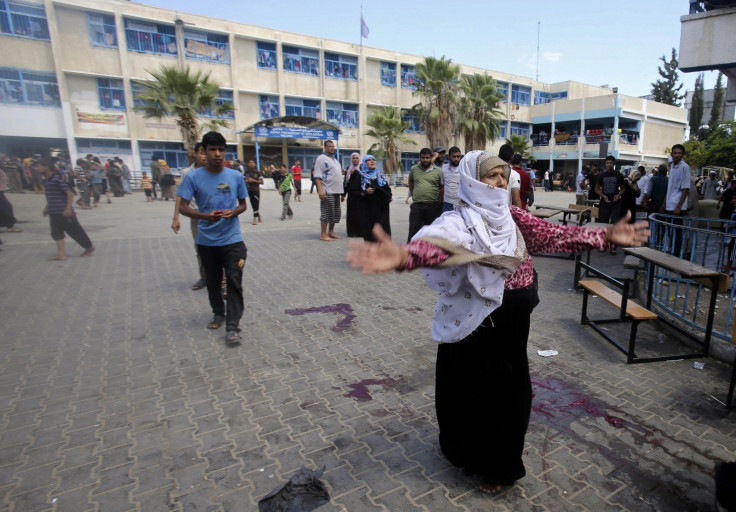 At least 10 people have died and 30 others injured, many seriously, when an Israeli airstrike hit a school run by the United Nations in Rafah, southern Gaza.
According to local reports the missile struck an entrance to the school, where hundreds of people were sheltering from Israeli shelling.
The casualties in Rafah were announced by Ministry of Health spokesman Ashraf al-Qidra. Local people in the town say shelling almost hit another school in the area housing almost 3,000 people.
Robert Turner, director of the United Nations Relief and Works Agency (UNRWA), has said that the attack could not have been an accident or a mistake as the agency informs "Israeli Defence Force daily of all our sites and shelters".
At least six UN shelters have been struck by Israeli airstrikes since the operation began, killing dozens of people including many children.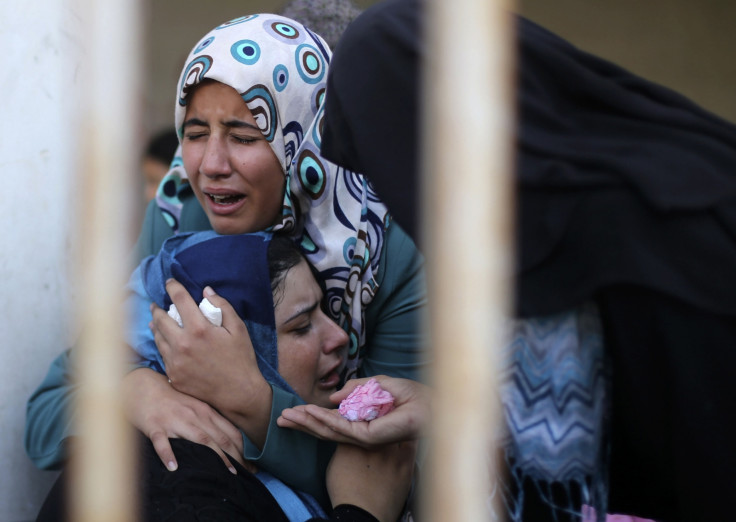 Relatives of Palestinians from the al-Ghol family, killed in an Israeli air strike on a house in Gaza.
REUTERS/Ibraheem Abu Mustafa
Almost 200 Palestinians have died since the latest ceasefire broke down and an estimated 1,740 since Operation "Protective Edge" started a month ago. Around 400 of the dead are children. 9,000 people have been injured, many seriously, and 10,000 homes destroyed in shelling by air, land and sea.
During the conflict 66 Israelis have died, 63 of them soldiers including Hadar Goldin, who had been feared abducted by Hamas militants. The IDF now says he died in action.
Israel's cabinet has indicated that a negotiated ceasefire with Palestinian groups is no longer on the table, but that Israel may unilaterally withdraw.
Israel's Prime Minister Benjamin Netanyahu said even after all Hamas tunnels are destroyed Israel may continue to go on the offensive.
"We do not accept a continuation of the shooting," said Netanyahu. "It (Hamas) will have to understand, however long that takes, that it will pay an intolerable price, from its perspective, for continuation of the shooting."
The United Nations has warned that a humanitarian disaster is unfolding in the Gaza Strip, with more than a quarter of the 1.6 million population displaced and a basic lack of food, water and medicine.
James Rawley, the UN Humanitarian Coordinator in Gaza, says: "We are now looking at a health and humanitarian disaster. The fighting must stop immediately."
The United Nations Relief and Works Agency (UNRWA) in Gaza told the BBC that what is happening now in Gaza is a "health disaster of widespread proportions."
On its website UNRWA lists nine staff members killed in the current bombardment: Fatma A Rahim Abu Amouna, 54, teacher; Inas Shaban Derbas, 30, teacher; Mohammed A Raouf Al-Dadda, 39, teacher; Ismail A. Qader El-Kujk, 53, environmental health worker; Farid Mohamed Mohamed Ahmed, 50, teacher; Ahmed Mohamed Mohamed Ahmed, 51, school principal; Munir Ibrahim El Hajjar, teacher; Medhat Ahmed Al Amoudi, 53, labourer; and Abdallah Naser Khalil Fahajan, 21, school attendant.
Robert Turner, Director of the UNRWA, said the strike near the facility in Rafah could not have been mistaken identity as "we inform Israeli Defence Force daily of all our sites and shelters."
© Copyright IBTimes 2023. All rights reserved.