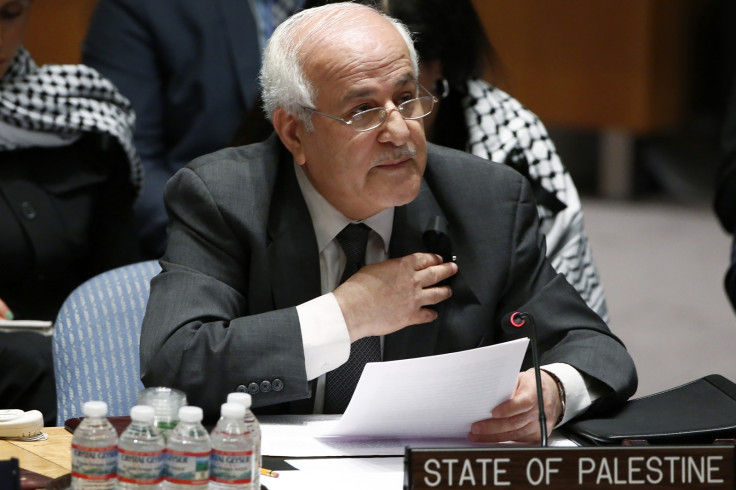 The United Nations Security Council is expected to vote on Tuesday on a Palestinian draft resolution that calls for a peace deal to be agreed with Israel by the end of 2015, as well as Israel to end its occupation of Palestinian territories by late 2017.
Jordan's ambassador to the UN told reporters that Arab delegations had agreed the draft should go to a vote as soon as possible. Israeli news outlet Haarez reported that 22 UN ambassadors wanted the vote to be brought forward.
Diplomats said the vote is set to occur at 2pm (10pm GMT).
"We have decided that we are going to pass to a vote at the Security Council on the resolution," said Prince Zeid Ra'ad Zeid al-Hussein, Jordan's ambassador to the United Nations.
Russia's state news broadcaster RT cited diplomatic sources as saying an official bid for Palestinian statehood had been submitted to the council.
The United Kingdom and the US have expressed opposition to the draft and are expected to veto the measure, should it pass a vote.
British UN Ambassador Mark Lyall Grant told Reuters, "There's some difficulties with the text, particularly language on time scales, new language on refugees. So I think we would have some difficulties."
On Monday the US stated that the resolution would make securing a peace between Israelis and Palestinians more difficult:
"We think [this resolution] sets arbitrary deadlines for reaching a peace agreement and for Israel's withdrawal from the West Bank, and those are more likely to curtail useful negotiations than to bring them to a successful conclusion," State Department spokesman Jeff Rathke said. "Further, we think that the resolution fails to account for Israel's legitimate security needs, and the satisfaction of those needs, of course, integral to a sustainable settlement."
The UN Security Council is made of representatives from 15 countries: five permanent members – China, France, Russian Federation, UK and the US, and 10 members, elected by the UN's General Assembly, which serve two-year terms.
Currently, the non-permanent members are Argentina, Australia, Chad, Chile, Jordan, Lithuania, Luxembourg, Nigeria, Republic of Korea, and Rwanda.
Argentina, Australia, Luxembourg, South Korea and Rwanda's terms will all end on 31 December.
Jordan is the only Arab state represented on the Security Council.