Promoting its new BlackBerry Z30 smartphone is pointless when the future of the company is so unclear.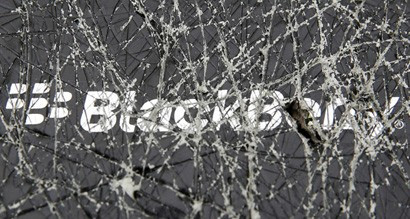 To say it has has been a tumultous ten days for BlackBerry would be to severely understate the matter.
Last week it announced its latest (final?) smartphone, the BlackBerry Z30, and quickly saw it buried among the avalanche of coverage surrounding Apple's latest iPhones.
Two days later the company announced it expected to post near-$1bn losses in the current quarter and announced plans to cut 40% of its global workforce.
Then, earlier this week BlackBerry announced it had accepted a buyout bid from its largest shareholder, Fairfax Financial Holdings, which valued the struggling Canadian smartphone maker at £3 billion.
Today, the company confirmed a loss of $965 million, the vast majority of which was due to the writeoff on losses of its Z10 smartphones of $924m.
Today also marked the release of the Z30 in the UK.
This day last week Apple released the iPhone 5s and iPhone 5c around the world accompanied by the usual frenzied media coverage, long queues and sold out signs. No such hoopla surrounded the Z30 going on sale exclusively in Selfridges today.
BlackBerry Z30
The BlackBerry Z30 is the company's new flagship device and features a 5in screen, the largest ever seen on a BlackBerry device, as well as using the updated BlackBerry 10.2 operating system.
But with the future of the company unknown, how can BlackBerry convince customers to part with £529 for a new phone, when it cannot guarantee the phone will be supported for very much longer?
I put this question to BlackBerry's regional managing director for EMEA Robert Bose this week, but, unsurprisingly, he avoided giving a direct answer:
"What we have right now is a letter of intent from Fairfax, we are in a period of due diligence that extends to 4 November. You probably won't hear too much between now and 4 November. I think that once that happens we'll be able to talk more knowledgeably about goes forward from there."
Road map
However Neil Cooper, BlackBerry UK product manager was able to shed some more light on this, saying that the company had a 1-2 year roadmap in place for supporting the Z30 and other BlackBerry 10 devices, and that it was his job to get that message out to carriers and partners.
As Bose pointed out several times when questioned about the future of the company, he was unable to say anything forward-looking as the company was in a blackout period ahead of today's results.
It was clearly a clever ploy on the part of BlackBerry to roll out executives to the media when it knew they couldn't say anything about what everyone wanted to know about (the company's future) and everything about what no one wanted to know about (the Z30).
Cancelled conference call
But that blackout period is likely to continue for some time yet as the company cancelled a conference call with analysts which typically takes place after every earnings call.
What Bose was able to clarify was that going forward BlackBerry plans to have a portfolio of two high-end phones and two low-end phones from now on to address its target markets. "What the company is doing is making sure we keep a very strong focus on enterprise and a very strong focus on prosumer."
Bose describes a prosumer as a business man who are looking for a device which gives them "productivity capability" but all this rhetoric sounds hollow in light of the bigger picture.
No one knows what is going to happen to BlackBerry in the coming months and years. If the Fairfax deal does go through (and that is still a big if) then no one knows what it will do with the brand.
Broken up and sold off
While continuing as a smartphone manufacturer is certainly a possibility, it is just as likely that the company will be broken up and sold off, never to be seen again.
It is therefore hard to take anything said about the Z30 this week as very informed or accurate as the company cannot possibly say the device will be supported in the coming months, not to mind years.
The only fact Bose could clarify in our meeting this week was a sobering one. By the end of May next year, 40% of the BlackBerry workforce, or 4,500 people, will have lost their jobs around the world.