Underwater migrant sculptures 'drowned' in Atlantic Ocean to show human cost of refugee crisis
A collection of concrete figures, including some representing migrants on a dinghy, have been installed on the sea bed off the coast of Lanzarote, forming part of Europe's first undersea sculpture museum.
Jason deCaires Taylor used migrants and an abandoned migrant dinghy to make casts for the figures of the piece, called The Raft of Lampedusa. It refers to The Raft of the Medusa, a painting by French Romantic painter Theodore Gericault that depicts the wreck of the French naval frigate Medusa. The piece also refers to the refugee crisis hitting Europe, Africa and the Middle East.
In 2013, 366 migrants were killed in a shipwreck near the Italian island of Lampedusa, stunning the European Union into expanding its rescue operations in the Mediterranean. Lampedusa is less than 300 km (190 miles) across the Mediterranean Sea from Libya.
The disaster near the southern Italian island was one of the worst recorded in the decades-long history of people fleeing war and poverty in Africa on rickety boats bound for Europe.
The art work is part of a larger project called Museo Atlantico, which features 60 figures on the Lanzarote seabed, 14m (45 feet) below the surface. There will be 300 pieces installed by January 2017 as part of the Canary Islands-funded project, Taylor said.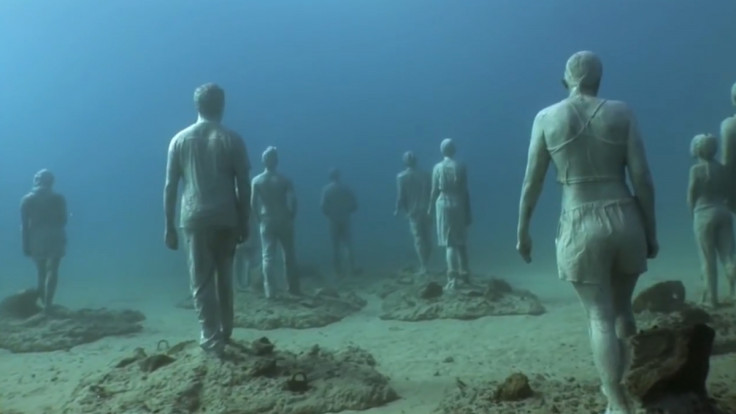 Each sculpture is made using marine cement, based on casts created by covering human subjects with a paste called alginate. The sculptor told Reuters the piece is about hope, loss and abandonment by society. It is about a fight for survival which is happening now, he added.
Work began on The Raft of Lampedusa in February 2015 and weighs approximately 10 tonnes. Due to its great weight it had to be floated using a giant balloon and pulled out to sea using a tug boat. It is currently positioned, with other pieces, 500m off the island's south coast.
The underwater museum, which will feature dive guides to help tourists, will be open to the public on 1 March.
© Copyright IBTimes 2023. All rights reserved.