British artist Jason deCaires Taylor has created a sculpture museum at the bottom of the Atlantic off the coast of Lanzarote, one of Spain's Canary Islands. Museo Atlantico is 14 metres under the surface of the water, so is accessible only to scuba divers and snorkelers.
Taylor told IBTimesUK he has created around 300 life-sized figures, cast from real people and grouped in several installations that draw attention to issues such as climate change, conservation and migration. The largest installation is entitled The Rubicon and it comprises a group of 40 people walking towards a gateway. The figures aren't paying attention to where they are going − some have their eyes closed, some are taking selfies, others are engrossed in their phones. Taylor says this work is about climate change and how mankind seems to be heading blindly towards a point of no return.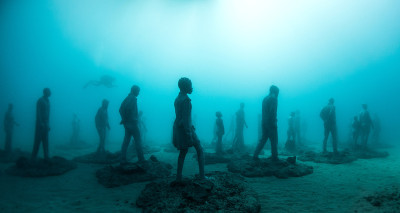 Another piece, The Raft Of Lampedusa, depicts African men and women in a sunken dinghy on the seabed. The title of the piece is a reference to The Raft Of Medusa, a Théodore Géricault painting of people clinging to a makeshift raft after a French frigate ran aground off the coast of Mauritania in 1816. There were not enough lifeboats for everybody on board, so the captain and other dignitaries sailed off in them, leaving 147 people to board an unstable raft.
Conditions on the raft were horrific. Many people were washed out to sea, others were killed in bloody fights and some survivors engaged in cannibalism. When the raft was finally rescued after 13 days at sea, only 15 men were still alive. The case became an international scandal, with the deaths being blamed on an incompetent captain who had abandoned his responsibility.
Taylor says his Raft Of Lampedusa points to European governments' unwillingness to accept responsibility for the migrant and refugee crisis. The Canary Islands are the first port of call for thousands of people from west Africa trying to reach Europe. Some of the figures in Taylor's underwater dinghy were cast from people who had made this perilous journey.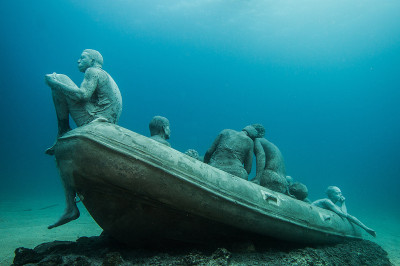 The artist is also working on an underwater botanical garden, filled with the island's natural flora – as well as human-cactus hybrids that suggest humanity and nature working together in perfect harmony. Over time, the garden will bloom in another way, as the local marine life colonises it.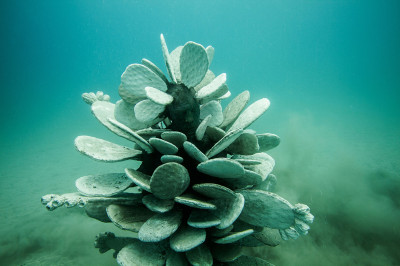 These sculptures are not just for humans – they serve as an artificial reef, encouraging greater biodiversity. This is not Taylor's first underwater sculpture park. He has created similar undersea museums in the Bahamas and Mexico. His plain grey cement figures are slowly being transformed as they are colonised by colourful coral, anemones and other forms of sea life.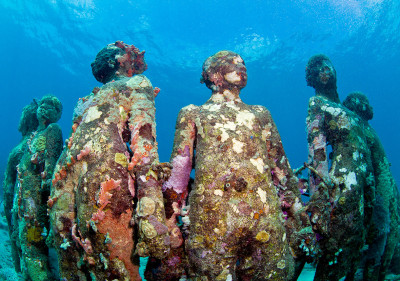 While the figures off the coast of Lanzarote won't become covered in coral, they will also change over the years as they become home to the local marine life. Museo Atlantico opens to the public on 25 February. Part of the proceeds from ticket sales will go towards local conservation projects.