The general secretary of Unite, Len McCluskey, has condemned the "failed" coup against the Labour leader Jeremy Corbyn, and called on trade unions to act as mediators among party members. McCluskey also called for a halt among MPs pressing for a formal leadership challenge, saying that those opposing Corbyn were "seduced by sinister forces".
Appearing on the BBC's Andrew Marr Show on Sunday, 3 July, the Unite leader said that trade unions could resolve the dissent from within the Labour Party, adding that Corbyn was the victim of a "political lynching".
McCluksey added: "The trade unions can broker a peace. With Jeremy as our leader and the genuine concerns of the PLP [Parliamentary Labour Party], we can bring people together."
Speaking of Corbyn's response to the attacks from his own MPs, McCluskey said the Labour leader was "undermined, humiliated and attacked". He added that there was little chance of the Islington North MP standing down and would definitely appear on the ballot paper of any future leadership election.
Jeremy Corbyn called for unity amongst Labour MPs, asking for them to "respect the democracy of our party and the views of Labour's membership, which has increased by more than 60,000 in the past week alone".
"Our priority must be to mobilise this incredible force to oppose the Tories, and ensure people in Britain have a real political alternative," he wrote in the Sunday Mirror.
So far, no Labour MP has yet confirmed they will stand against Corbyn in a leadership contest. Angela Eagle, who resigned from shadow business secretary position in Corbyn's cabinet, said to be one of the contenders for the Labour top job, has yet to announce her formal challenge.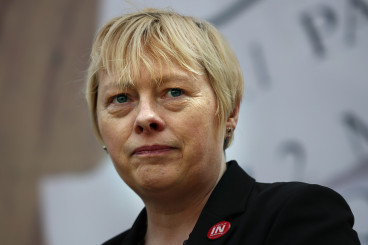 One insider said in a Daily Express report: "When Tom Watson said he wasn't going to challenge Jeremy, the parliamentary party knew it was time to look at other possibilities but Angela then jumped the gun.
"The MPs were really angry, complaining they hadn't had a say. They told people close to Angela, 'She can try if she wants, but don't expect us all to come flying out after her.' The party then wanted to give Jeremy the weekend, time at home with his family, to think about quitting."
A leadership battle before the release of the Chilcot Inquiry into the Iraq War on 6 July could prove embarrassing for Eagle, who resigned from the Shadow Cabinet after nine months. According to the New Statesman, Eagle's 2003 vote in favour of the Iraq War and Syrian air strikes could hamper her bid against Corbyn.