Egypt has unveiled a first-of-its-kind museum that showcases fossils of extinct whales. The museum is a part of the government's efforts to attract tourists in the face of political and social turmoil the country is facing since the Arab Spring that ousted autocrat Hosni Mubarak.
The Fossils and Climate Change Museum is located at the famed Valley of the Whales (Wadi Al-Hitan) in Fayoum, about 150km south-west of the Egyptian capital Cairo. The Whale Valley, a Unesco World Heritage Site since 2005, is itself known for containing the invaluable fossil remains of the earliest, and now extinct, suborder of whales, Archaeoceti.
Funded by Italy, the museum has been constructed at an estimated cost of €2bn ($2.17bn, £1.51bn), the Associated Press reported. The museum is dome-shaped and has been painted in sand colour which blends it with the desert landscape and sand dunes surrounding it. It also houses several prehistoric tools used by early humans.
"When you build something somewhere so beautiful and unique, it has to blend in with its surrounding ... or it would be a crime against nature," the museum's architect Gabriel Mikhail was quoted as saying. "We are confident visitors will come," he added.
An intact, 37-million-year-old skeleton of a legged whale, dubbed walking whale, forms the central display at the Whale Valley museum. The 20-metre-long fossil and other remains of whales at the museum represent how whales evolved into an ocean mammal from previously being land creatures.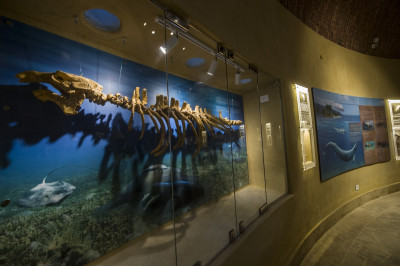 According to United Nations World Tourism Organization (UNWTO), 14 million international tourists visited Egypt in 2010, generating nearly $13bn (£9bn) revenue. Tourism saw a sharp decline of 45% in the first quarter of 2011 when the uprising struck Egypt.
Egypt's tourism has had several setbacks since the revolution. The Russian airliner crash over Sinai Peninsula by Isis on 31 October 2015 that killed all 224 passengers on board was a recent blow to the country's tourism. In an effort to rebound its dwindling number of tourists, three tombs of ancient Egyptian nobles were opened to the public for the first time in the ancient city of Luxor in November 2015.