United Airlines Flight Makes Emergency Landing After Evacuation Slide Accidentally Opens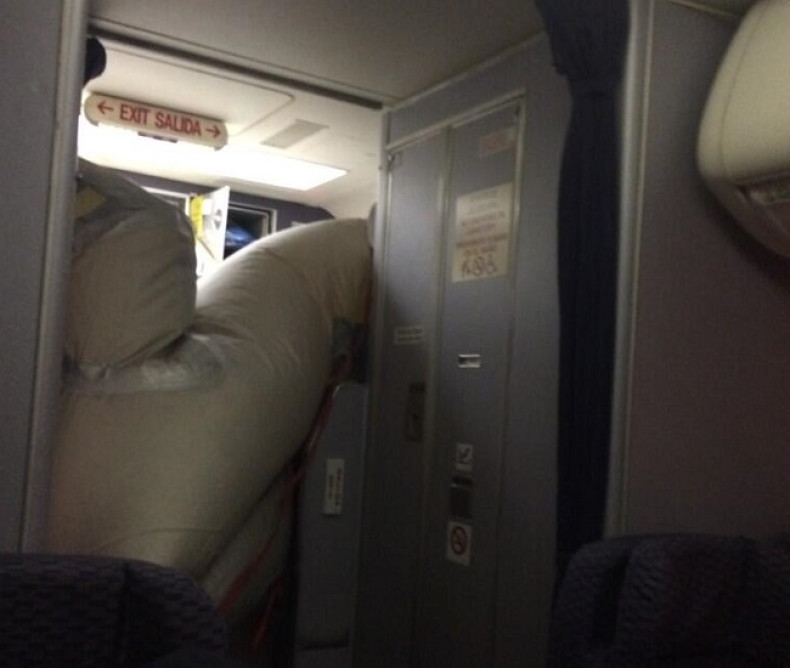 A United Airlines plane was forced into an emergency landing after an evacuation slide inflated inside a cabin mid-flight - 40,000ft over Kansas.
The pilot immediately told the 96 passengers on board the Chicago to Orange County, California, flight he would be landing in Wichita as soon as possible after the emergency slide blew up to full size and blocked the plane's exit doors.
Luckily, no one was injured.
The fault behind the slide's unexpected deployment is still under investigation.
Taylor Martinez, a professional American football player and Apple and Google app entrepreneur, tweeted the picture of the slide – calling it the "scariest flight of all time".
Michael Schroeder, who was on his way home to California, told the Wichita Eagle that the cabin crew said they had never seen anything like it.
"I heard a kind of loud pop and hissing noise and I turned around to the back and that slide that would normally go outside the plane so you can slide down in an emergency had for some odd reason deployed inside the plane while we were flying," he said.
"Fortunately nobody was back there."
Early reports suggested a passenger attempted to open a door during the flight but a spokesman for the US Federal Aviation Administration said they were false and it was "impossible" at that altitude.
A spokesman for United Airlines said maintenance crew would inspect the Boeing 737-700 to determine why the slide had inflated.
"The flight diverted to Wichita, Kansas, after the emergency evacuation slide accidentally deployed. No one was injured and the flight landed safely, he added.
"We are flying in another aircraft to resume the flight and get our customers to their final destination as quickly as possible."
Passengers were taken to overnight accommodation when the plane landed in Wichita and investigators checked the plane.