United Airlines: Giant rabbit's mysterious death sends Twitter hopping with hilarious memes
The incident comes as the carrier is reeling from multiple PR crises in recent months.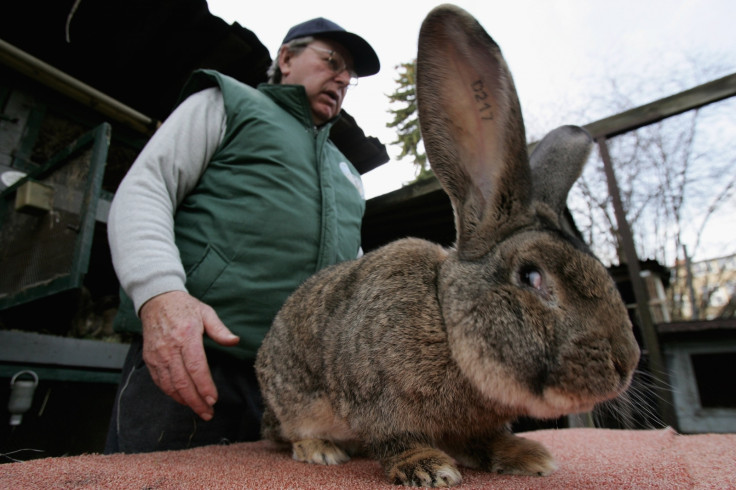 A giant 10-month-old continental rabbit named Simon, set to become the biggest in the world, was mysteriously found dead after a United Airlines flight from London to Chicago on Monday (24 April). His owner, breeder Annette Edwards from Worcestershire, told the Associated Press that the three-feet-long rabbit was checked by a vet shortly before travelling across the Atlantic to Chicago's O'Hare airport and was "fit as a fiddle".
Edwards said the giant rabbit was being delivered to its new owner – a celebrity whom she did not identify. The animal was found dead in the cargo hold where it was placed after the plane landed in Chicago.
United spokesman Charles Hobart said the rabbit seemed to be healthy and was moving in its crate when it was taken off of the plane at O'Hare airport, from where it was scheduled to be placed on a second flight to Kansas City.
It was reportedly checked again after half an hour and appeared to be asleep. After that, a pet facility employee found the rabbit dead in its cage.
United is currently investigating the handling of the giant rabbit.
"Travel can be stressful for animals," Hobart said. "We won't know the cause of death, because we offered to perform a necropsy free of charge — that's standard procedure — but the customer didn't want us to perform a necropsy, and we understand."
The incident comes as United Airlines is reeling from multiple PR crises in recent months.
Earlier in April, Dr David Dao, a 69-year-old Vietnamese-American was forcibly removed from a plane in Chicago after he refused to give up his seat for crew members on an overbooked flight. Multiple videos taken by his fellow passengers soon went viral and showed Dao's bloodied face as he was dragged from the plane.
The brutal footage soon sparked worldwide outrage with many called on passengers to boycott the airline.
In March, United triggered fierce backlash on social media after a gate agent barred two teenage girls from boarding a flight because they were wearing leggings. While the airlines defended its actions saying it has a dress code for "pass riders" – friends or relatives of United employees – the company was slammed by social media users, including celebrities, using the hashtag #LeggingsGate.
In response to the latest incident, United said they were "saddened to hear the news".
"The safety and wellbeing of all the animals that travel with us is of the utmost importance to United Airlines and our PetSafe team," the carrier said in a statement. "We have been in contact with our customer and have offered assistance. We are reviewing this matter."
However, it did not take long for social media users to respond with a slew of memes and comments on the rabbit's death.
Check out the tweets below:
© Copyright IBTimes 2023. All rights reserved.