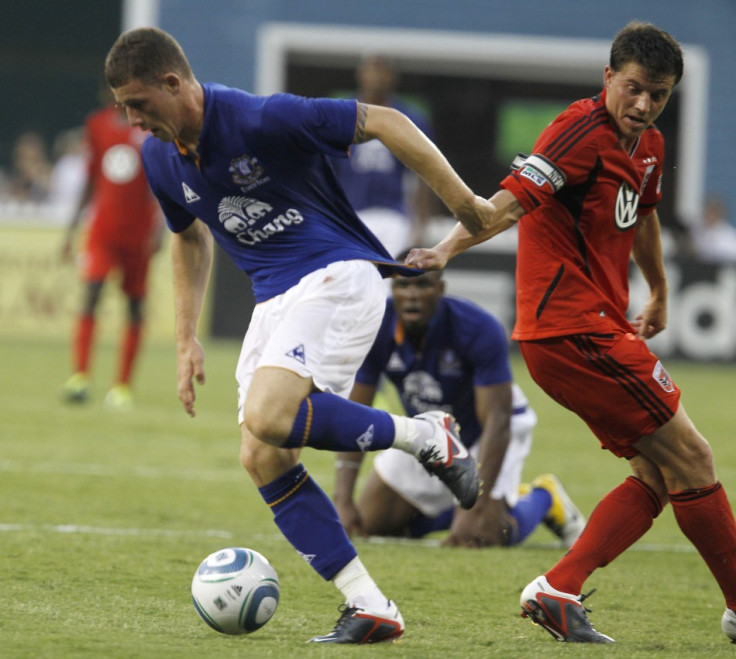 Everton have confirmed the re-signing of Manchester United target Ross Barkley, with the youngster set to stay with the Merseyside club until 2016.
Barkley has shown great potential since moving from Everton's youth side to their senior squad in the summer, and has drawn the attention of numerous English clubs as a result.
United were strongly connected to Barkley in the summer transfer window, with Chelsea also linked to the starlet by numerous media outlets.
The Sunday Express went so far as to claim that Barkley might make a move to United for £15 million, with Ferguson seeing great potential in the England Under 21 international to be a future top European talent.
But now, in a blow to United, Liverpool-born Barkley has committed to Everton for at least the next four years.
"We are pleased but obviously not at all surprised that Ross has agreed his first long-term contract with the club," Toffees chairman Bill Kenwright told the club's official website.
"Ross has recently talked of his commitment to Everton and his growth under the very special guidance of David Moyes, his staff and indeed our senior players.
"That combination of expertise can only be of benefit to any young footballer."
United look set to be in the market for a midfielder, particularly after Darren Fletcher announced he is taking an extended break from football to recover from a bowel condition.
Both young and more experienced playmakers have been connected to the club, with Wesley Sneijder in particular said to be a possible target for the Red Devils, though his wage demands might be too high for any deal to be made.
And after Ferguson insisted today that he will only chase after targets that have been long standing for the club come January, it looks like Barkley will be taken off the list of possible purchases.