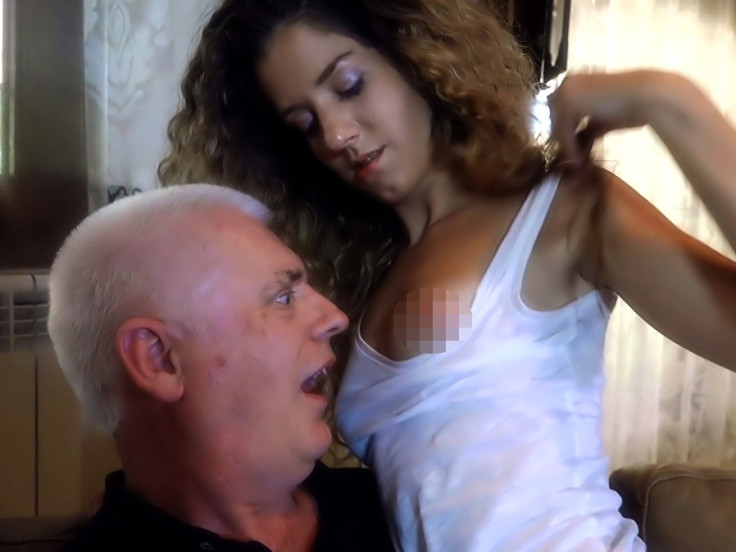 A smutty professor who vowed to quit his porn star double life after an exposé cost him his job, is back making X-rated films again.
Oxford-educated Nicholas Goddard, 62, whose porn alias is Old Nick, is seen in his latest video being recognised by two young girls who read about him on a smartphone.
The divorced dad of three is walking his dog in a park when he signs his autograph on the pair's stomachs. His double life as Manchester University chemical engineering lecturer and porn star was first revealed in the Sun newspaper last year.
The brunettes, in their 20s from Eastern Europe, then lead him off for a threesome.
Goddard was forced to resign from a 35-year academic career at Manchester University last April after a student spotted him starring in one of the scores of films he made over a decade-long porn career.
At the time that his double life was exposed, he was reported to have said: "I've given it all up."
His previous videos, with titles such as Teen Monique F***s Old Nick, have racked up more than a million hits online.
But in the new film he tells his two co-stars: "Why would I stop now? I enjoy it — it's fun."
Professor Goddard married in 1981, a few years after graduating from Oxford, according to the Daily Mail. The son of a clerk at the old Ministry of Labour (which became the Department of Employment), he had three children with wife Christina. The couple were together for 25 years, until they separated in 2006.
His family were apparently unaware of his other job, which involved him having sex with dozens of women. He is believed to have started his second career following his divorce.
Goddard has appeared in a number of academic videos on the university's website – and has published scores of scientific papers during his career.
The disgraced don has said he does not get paid much during his stints as an adult movie star, but he does receive travel expenses.