Jawbone has launched two new fitness trackers - the UP MOVE and the UP3 - to expand its wearables range from an "entry-level" device to "the world's most advanced multi-sensor tracker".
They are the third and fourth devices in Jawbone's line of UP fitness trackers, which already includes the original UP and the UP24.
"The fitness tracker market is really heating up at the moment," Paul Lamkin, editor in chief of the wearable tech site Wareable, told IBTimes UK. "Not only did Fitbit, already an established player in the wearable world, recently unveil a trio of new activity recording devices, Microsoft also threw its hat into the ring with the surprise launch of the Microsoft Band at the end of October.
"Jawbone is one of the most successful companies in the fitness tracker genre at the moment and it makes sense that it's meeting the new challengers, from existing rivals and new entrants, head on."
UP MOVE for wearable novices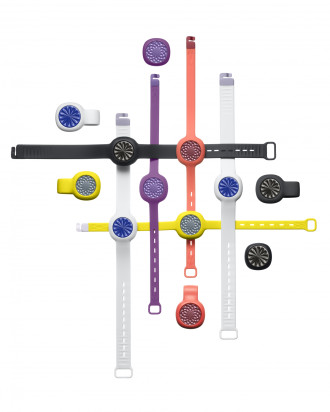 The UP MOVE is a circular device that can be attached to a wristband or to a clip that can attach to clothes. LED lights allow wearers to monitor their progress and tell the time by pressing the patterned front.
It is aimed at people who have not used wearable devices in the past and are at "the beginning of a fitness or weight loss journey", according to vice president of product management and strategy at Jawbone Travis Bogard.
"Incorporating the same best-in-class lifestyle and activity-tracking features of our UP and UP24 bands, UP MOVE combines style, versatility and comfort with highly accurate tracking and personalised guidance," Bogard said.
The UP MOVE will be available for pre-order from today and will cost £40.
UP3 tracks four stages of sleep
In contrast to the basic functionality of the UP MOVE, the UP3 incorporates a multi-sensor platform that analyses a wide range of biometric signals.
It includes a tri-axis accelerometer, bioimpedance sensors to measure heart rate, and skin and ambient temperature sensors.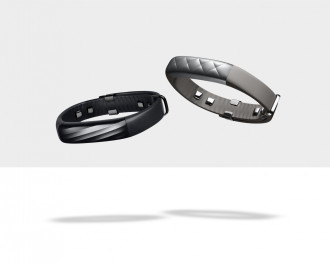 Building on the abilities of the UP24 to track sleep, the UP3 is able to identify the four scientific stages of sleep, which include waking, REM, light and deep sleep.
It is also able to automatically identify workouts, while learning and classifying activities it may not be familiar with, such as skiing.
"With UP3, our mission was to create the world's most powerful tracker in the smallest possible design" Bogard said.
"Our advanced, multi-sensor platform delivers a huge amount of new health data, backed by our smart algorithms and highly personalised Smart Coach system. And because UP3 is fully updateable, we're able to unveil new features and experiences in the coming months."
The UP3 will cost £150 but no launch date for the device has been announced yet.