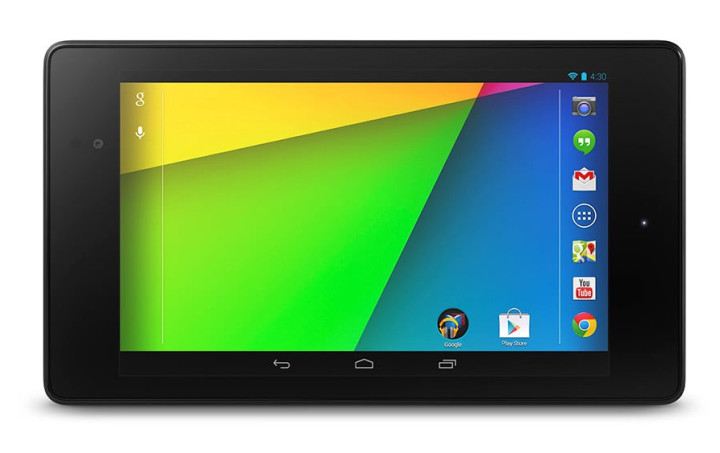 Nexus 7 2013 users can now install the latest Android 4.4.3 KTU84L KitKat update via factory image as the OTA update is yet to be released across several countries.
With due credit to Al Sutton from Funky Android, a brand new changelog is now available which details the bug-fixes, tweaks and changes made from Android 4.4.2 (KOT49H) through to Android 4.4.3 (KTU84L).
The changelog has been compiled from the list of code commits submitted to the Android Open Source Project (AOSP). With a sum total of 7,454 feature changes incorporated into this update, it is one of the biggest to date.
Bug-Fixes and Improvements
Here is the complete list of bug-fixes and improvements:
Partially redesigned Dialer app
Performance enhancements and fixes to recently introduced Chromium integrated browser, ART, Dalvik, several apps and more
Fixes for Bluetooth functionality from overexposure to BLE devices and other minor Bluetooth issues
Fixes popping sounds in flac audio files
Fixes semi-permanent death of background services
Bad VPN routing is now fixed
Device Specific Changes
Some of the key device specific changes ported to the new KTU84L KitKat include fix for low volume issue with wired headsets. However, it is still not clear if the persistent issue with poor audio quality as well as the missed calls and text messages issue is resolved or not with the new update.
The changelog also hints that the update may include a fix for the unexpected 5GHz Wi-Fi connection problems. Head over to the Funky Android (source link above) to find the complete changelog details.
Interested Nexus 7 (2013) users can follow our step-by-step guide to install the factory image in simple steps (courtesy Team Android).
Pre-requisites
1. Install USB Drivers for Nexus 7 2013 on the computer.
2. Enable USB Debugging Mode on the tablet by navigating to Settings >> Developer Options.
3. Backup all your important data before you proceed with installation process.
4. Ensure the phone's battery has at least 80% charge.
5. The Android 4.4.3 KTU84L KitKat firmware is compatible only with the Nexus 7 2013 model. Do not attempt installing this firmware on incorrect variants as it may damage or brick the device. Verify the model number of the Nexus 7 2013 by navigating to Settings >> About tablet.
6. The device should be running Android 4.4.2 KOT49H OTA firmware.
Steps to Install Android 4.4.3 KTU84L on Nexus 7 2013 with Factory Image
Step 1 - Download Android 4.4.3 KTU84L Factory Image using the following links for Nexus 7 2013 on the computer.
Download Android 4.4.3 Image for Nexus 7 2013 (WiFi).
Download Android 4.4.3 Image for Nexus 7 2013 (GSM) (not available yet).
Step 2 - Connect the Nexus 7 to computer via USB cable.
Step 3 - Ensure Fastboot is configured and installed correctly on your computer. Click here to know How to Set Up ADB and Fastboot with Android SDK.
Step 4 – Power off the tablet.
Step 5 – Boot the device into Fastboot/Bootloader Mode as follows: Power ON the tablet while pressing and holding Volume Up and Power buttons until the Fastboot menu and START appear on screen.
Step 6 - Extract the downloaded factory image file to your computer's desktop. Browse to the folder razor-KTU84L and then copy and paste all the files to your Fastboot directory.
Note: Once you have correctly setup fastboot on your computer, the Fastboot directory should be the platform-tools folder in your Android SDK directory.
Step 7 - Using the factory image files in your Fastboot directory, execute the following commands depending upon the OS installed on your computer:
On Windows: Run the file "flash-all.bat".
On Mac: Run the file "flash-all.sh" using Terminal.
On Linux: Run the file "flash-all.sh".
Step 8 –Once you have executed the appropriate command, the factory image flashing process begins on your Nexus 7. Now wait until the installation process completes or follow the on-screen instructions on your tablet if you need to unlock the bootloader.
Step 9 - Once the installation is done, your tablet will reboot and it may take about 5 minutes for first boot to complete. So, please do not interrupt the process.
Your Nexus 7 is running on official Android 4.4.3 KTU84L KitKat update via the stock factory image from Google. Go to Settings > About tablet to verify the firmware installed.