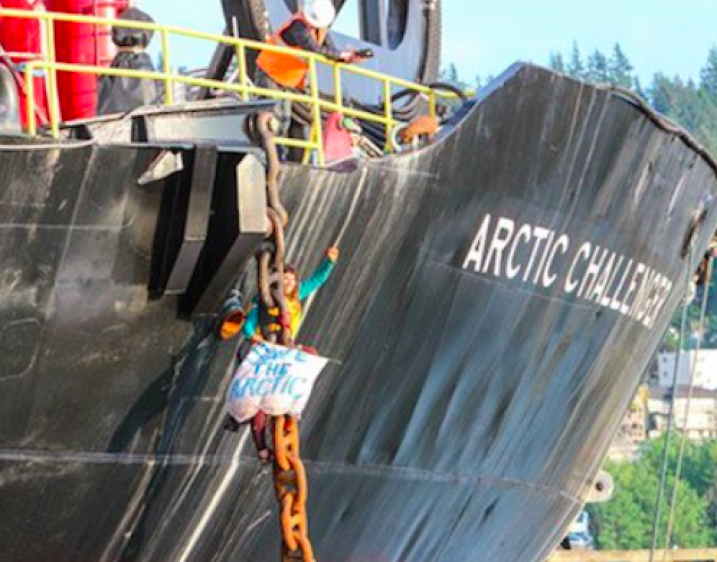 An Arctic activist spent nearly 66 hours suspended from an anchor chain on a Shell Arctic support vessel to stop it from leaving Bellingham, Washington in protest against Shell oil drilling.
The activist, Chiara D'Angelo, 20, said she used the wildlife around her to keep her going as she attached herself to the anchor of an Arctic Challenger.
The Arctic Challenger that was moving north of Seattle is to be used by the Royal Dutch Shell to drill for oil in the Arctic Ocean off northwestern Alaska.
"I feel extremely fortunate and surrounded by love. There must have been 15 times when I said 'I can't do this any more," D'Angelo told The Independent.
"But then I'd see an otter, or a bird overhead, or else my friends did these supply runs to me, and I'd manage to keep going.
"I am just so amazed that we were able to create this protest and it came true. This is just a very small act in a large progression of momentum.
D'Angelo has not been charged, confirmed a spokesman for the coast guard.
She plans on continuing with her protests along with the other activists.
"When you have children saying what's happening is not okay, as a parent you can't stay in denial because it's their place, and their future," said D'Angelo's mother, reported The Stranger.
On 14 May, Seattleites paddled out in kayaks in protest against the arrival of a Royal Dutch Shell oil rig in Seattle.
"I don't think Shell should be drilling in the Arctic. We can't clean it up if it spills, we don't need the oil, and it's bad for the climate," said 66-year-old campaigner, Martin Adams. "Shell is giving us the middle finger by ignoring what the city has said and what all of us are saying."