An Alaskan businessman believes he has the antidote to California's record drought: Ship millions of gallons of water from his state to its parched southern cousin — for a price.
Terry Trapp, the chief executive of Alaska Bulk Water in Sitka, says he already has contracts with California clients, though he won't yet reveal their identities or the exact amount he plans to ship. He hopes to begin shipping the liquid gold as early as July once he's worked out storage and transportation issues.
The water won't be going to agricultural use, he said, but in bulk to consumer businesses that might include bottled water operation. The water could also be used for operations such as fracking, and industrial uses such as cooling, Trapp noted.
Water will be transported by ship because it's "not economical to truck it", said Trapp. California isn't the only spot on the company's client list. Alaska Bulk is also reaching out to "water-stressed countries" around the world, said Trapp. "We hope to soon have international contracts," he added.
Water usage is regulated by the state and region, but Trapp's company can take up to nine billions gallons from its source, the six-mile-long Blue Lake. "That's a lot of water," he said.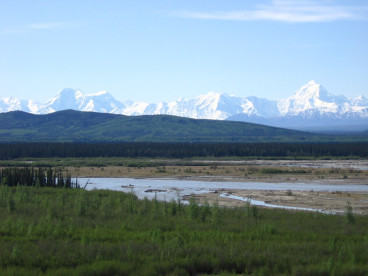 The lake also supplies water for a hydroelectric operation and Sitka's drinking needs. The H<sub>2O is so abundant that household use is not metered and often clean enough in its natural state that filtration is not required, according to a quality report by the City and Borough of Sitka's Public Works Department.
Alaska Bulk Water started out as True Alaska Bottling Co. before turning into a bulk water export operation. It has paid a million dollars in water credit fees and can ship up to 50 million gallons of water by the end of this year, reports the Alaska Dispatch.
In 2007 Governor Wally Hinckel was laughed at for suggesting an ocean pipeline be built to carry fresh water from Alaska to California. A recent analysis by Wired determined that still doesn't make sense. "Unfortunately, still crazy," concludes Wired.