The United States and Australia kicked off their biggest ever biennial joint military drill on Thursday (29 June), involving 33,000 troops from both the sides. The month-long exercise in Australian territorial waters will include training in land and air operations.
The exercise being held on board battleships that are equipped with strike jets is reported to be a show of force from the long-standing alliance, in what is seen as a display of military power aimed at China.
US Marine MV-22B Osprey aircraft landed on the deck of the USS Bonhomme Richard amphibious assault ship during events marking the start of drill, termed Talisman Saber 2017.
Australia, along with the US and Japan, has constantly expressed serious concerns over Beijing's aggressive claims to territories in the disputed South China Sea and its militarisation in coastal waters beyond its territory.
The maritime and territorial row has raised fears of confrontation in the region and the US-Australia drill comes at this time.
A top US commander in the Asia Pacific region Admiral Harry Harris said the large-scale exercise is intended to send a signal to China.
"I'm pleased about that message it sends our friends, allies, partners and potential adversaries," Reuters cited Harris as saying on board the USS Bonhomme Richard. "I think this demonstrates the importance of alliances in general and the value of this alliance in particular."
Relations between Beijing and Washington have soured in recent years as the Pentagon seeks to counter China's military assertiveness in the Asia-Pacific region. While the US has been eager to work with China to deal with North Korea, it has also said that it cannot accept China placing weapons or other military assets in the hotly contested waters.
Washington has estimated that Beijing has added more than 3,200 acres of land on seven reefs and tiny isles in the disputed international waterway through which trade worth $5tn (£3.9tn) passes each year. In the last three years, the communist country is reported to have built runways, ports, communications equipment and aircraft hangars.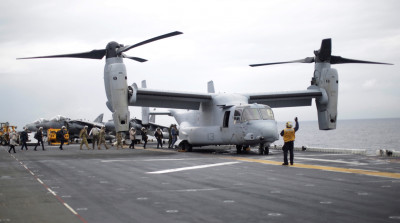 To counter China's claims, the US has been regularly conducting freedom of navigation operations in the South China Sea. But every action by the US forces has angered China, and the current joint drill with Australia is also likely to trigger a response from Beijing.
But more so the closeness between Washington and Canberra and the Talisman Saber 2017 could raise concerns in China, said James Curran, professor of politics and foreign policy at the University of Sydney.
"When there are concerns about China's activities in the South China Sea, this military exercise will send a signal and take on greater significance," Curran said. "China will be concerned if it looks like containment, when you have Australia, the United States and others trying to gang-up on China."
China is said to be deeply suspicious of Australia's ties with the US. Canberra is thus believed to be caught in the crossfire as it would have to choose between its long-standing alliance with the US and its economic partner, China.
Meanwhile, China has accused the Australian government of spying on the country's embassy and "harassing" Chinese citizens in Australia to provide intelligence.