Two US Air Force B-1B Lancer bombers along with the navy's Arleigh Burke-class guided-missile destroyer were reportedly deployed in the South China Sea on Thursday (8 June), the military said.
The planes flew a 10-hour mission from Andersen Air Force base in Guam through the disputed waters and operated with the San Diego-based USS Sterett in a bid to "sharpen their combat skills".
The operation was aimed at augmenting interoperability between the Navy and the Air Force "by refining joint tactics, techniques and procedures while simultaneously strengthening their ability to seamlessly integrate their operations," according to a statement by the Pacific Air Forces.
However, the Air Force stressed that its mission was only part of the Pacific Command's regular bomber presence program in the region and was "not related to any specific situation or nation".
It is unclear which part of the South China Sea the exercise took place, US military publication Stars and Stripes noted.
The B1-B bombers were originally developed to carry atomic weapons, but they are no longer nuclear-capable, according to the Japan Times. However, the bomber can still carry the largest payload of both guided and unguided weapons.
Pentagon's mission comes after it released an annual report to the Congress on China's military power, saying the communist country deployed nuclear-capable ballistic missiles to ground targets in the western coast of the US mainland.
The Dongfeng-26 (DF-26), a conventionally armed intermediate-range missile, was in all likelihood deployed last year, it said.
The US Navy has been conducting freedom-of-navigation operations in the hotly contested waters in South China Sea since 2015, especially near the Spratly archipelago. Every action by the US forces has angered China, and the recent flight is also likely to trigger strong response from Beijing.
Earlier in May, Washington sailed the USS Dewey within 12 nautical miles of the Mischief Reef in the Spratly Islands, drawing a strong rebuke from China. The operation, unlike the earlier "innocent" passage of US warships, was the boldest yet to challenge China's unilateral claims as well as to show the country that it was not entitled to a territorial sea around it, US officials said.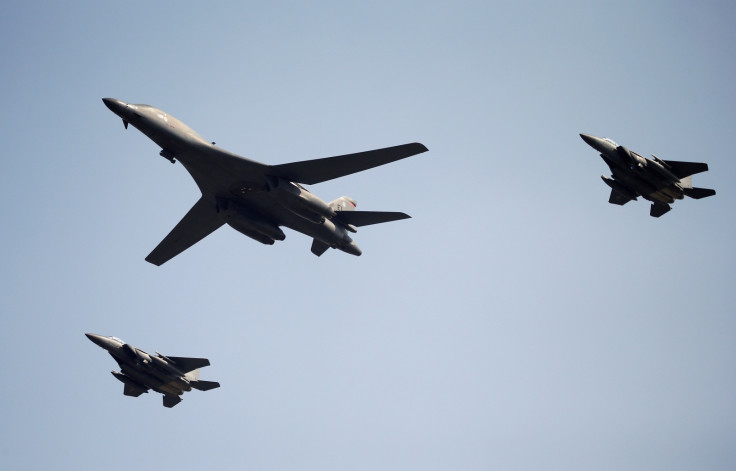 The freedom of navigation operation, the first under President Donald Trump, was meant to send a signal about US' intentions to keep patrolling the waters and was reported to be conducted to counter China's military assertiveness in the sea.
China has long blamed the US of deliberately raising tensions in the region by conducting freedom-of-navigation operations. However, Washington says that it sails in the sea to ensure access to key shipping and air routes while also aiming at showing support for free passage to vessels in the international waters.
The Asian country has also ramped-up its air and naval operation in the international waterway by sending bombers and fighter jets on "combat patrols", which Beijing calls a regular mission.