Newly released estimates by the US nonpartisan analysis agency, the Congressional Budget Office (CBO), have shown that the American Health Care Act (AHCA) currently being pushed by Republicans would leave 52 million Americans without health insurance by 2026.
More short-term estimates equally show that, compared to life under the Affordable Care Act (ACA), brought in by former president Barack Obama in a landmark healthcare bill that Republicans in Congress are attempting to repeal - numbers of people without insurance would increase by 24 million under the ACHA.
This number would rise to 20 million in 2020, and then 24 million in 2026, leaving an estimated 52 million uninsured by 2026.
Under Obama's ACA however, also known as Obamacare, the CBO predict that the number would be 28 million in the same year.
The estimates are good news for the US federal budget however, with the CBO saying that $337bn (£276bn) would be saved by 2026, mostly from "reductions in outlays for Medicaid" and the elimination of health insurance subsidies. Although a new tax credit plan would see revenue fall.
However, the statistics make grim reading for President Donald Trump, who previously claimed he would not cut Medicaid.
The CBO findings found that "several major provisions affecting Medicaid would decrease direct spending by $880 billion over the 2017-2026 period". It also said that 14 million fewer people would be enrolled by 2026 than under current laws.
The report also goes on to cast doubt over Trump's claim that his new bill would provide "insurance for everybody".
However, the president tweeted on Monday (13 March) that "ObamaCare is imploding", adding that "Republicans will come together and save the day." This was fundamentally rejected bu the CBO and Joint Committee on Taxation's assessment, which argued "the nongroup market would probably be stable in most areas under either current law or the legislation."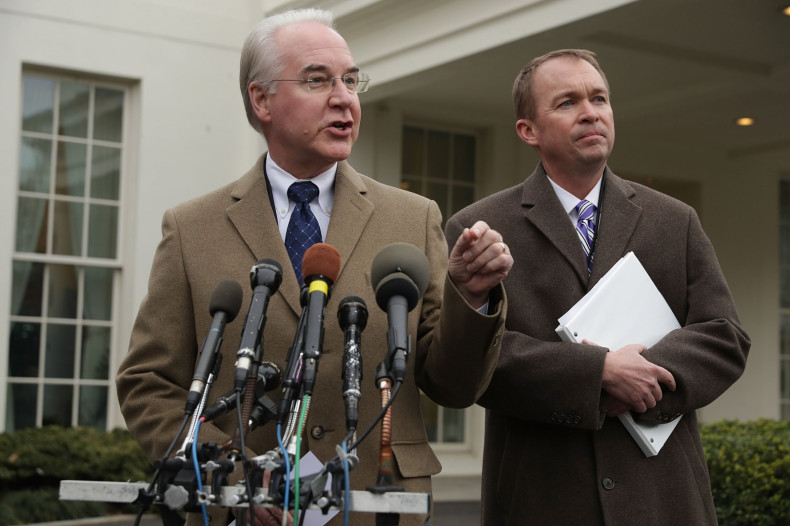 "We disagree strenuously"
Standing outside the White House, US Health Secretary Tom Price said "we disagree strenuously with the report that was put out."
Speaker of the House of Representatives, Paul Ryan, a figurehead of the new healthcare bill, instead claimed that the CBO findings in fact supported the new bill.
"This report confirms that the American Health Care Act will lower premiums and improve access to quality, affordable care. CBO also finds that this legislation will provide massive tax relief, dramatically reduce the deficit, and make the most fundamental entitlement reform in more than a generation."
Democratic House Leader, Nancy Pelosi called the bill "immoral", asking "how can Republicans look their constituents in the eye and tell them their bill will kick 24 million off coverage?"