Newly unsealed court documents reveal that Boston Marathon bomber Dzhokhar Tsarnaev showed "the opposite of remorse" after being captured by police, US prosecutors say.
Tsarnaev, 22, was sentenced to death for his role in the 2013 terrorist attack that killed three and injured more than 260 people. During his sentencing hearing, Tsarnaev claimed he was sorry for the victims he had killed and the suffering he had caused.
In the documents, which were released on 27 January, prosecutors said the bomber expressed anything but regret when questioned by FBI agents following his dramatic capture.
According to The Associated Press, the description was included in a motion to limit the testimony of Sister Helen Prejean, a Roman Catholic nun who testified that Tsarnaev expressed genuine sorrow about the bombing's victims. She quoted him as saying: "No one deserves to suffer like they did."
AP reported that prosecutors argued that the nun's testimony should be excluded and that if she were allowed to testify, they should be allowed to confront her with statements Tsarnaev had made to FBI agents. Tsarnaev's statements to the FBI or to Prejean were not among the more than 600 court filings and exhibits unsealed this week.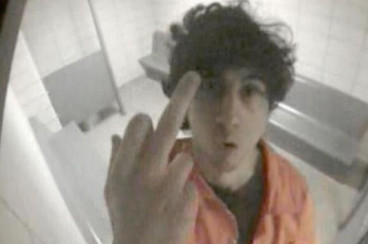 While Tsarnaev apologised for his crimes, prosecutors showed another side of him when they released a photo of a defiant Tsarnaev giving the middle finger to a security camera in his jail cell.
Among the documents released on 27 January were the statements made by the younger Tsarnaev brother when he was questioned while hospitalised at Beth Israel Deaconess Medical Center. Tsarnaev sustained multiple gunshot wounds during a shootout with police in Watertown, Massachusetts and was eventually captured inside a boat.
During his initial conversations with detectives, Tsarnaev asked about his older brother, Tamerlan, who planned and carried out the attack with him. Tamerlan died following the police shoot out, nearly two days before Dzhokhar was captured. The statements made at the hospital show that the agents initially told him his brother was alive. He repeatedly asked if his brother was really alive.
A motion to suppress those statements also noted that he had asked for an attorney 10 times during the nearly 36 hours of interrogations. Those requests were ignored. WBUR noted that federal officials sought an exemption from the Miranda rule because of a public safety emergency. During that time, Tsarnaev revealed that only he and his brother were involved in the bombing and that no other bombs remained.