The White House and US embassy in Canberra have brushed off the leaked footage of Australian Prime Minister Malcolm Turnbull's tongue-in-cheek comments of US President Donald Trump and his ties with Russia.
Turnbull roasted Trump in front of hundreds of journalists on Wednesday night (14 June) at a news media ball, an event that was supposed to have been off the record.
The Australian leader was filmed impersonating Trump as he discussed their meeting in New York in May. Breaking the protocol, the off-the-record speech was leaked by an Australian journalist.
"The Donald and I ... we are winning in the polls. We are! Not the fake polls. We are winning in the real polls. You know, the online polls. They are so easy to win," Turnbull said in the leaked recording. He added: "I have this Russian guy ... Believe me, it's true, it is true..."
The news about the leaked video was widely covered in the Australian media, getting mixed reviews.
"I don't think anybody cares about that," Reuters cited a senior White House official as saying.
The US embassy in Canberra released a statement saying it has taken Turnbull's comments "with good humour that was intended".
"We understand that last night's event is equivalent to our own White House Correspondents' Dinner," it said shortly after the footage was aired.
Joe Hockey, Australia's ambassador to the US, also played down the remarks.
"I think people see it in context," BBC cited him as saying. "I haven't been hauled into the White House and sent back to Australia."
Laurie Oakes, a veteran political editor with Channel Nine Network, broadcast the recording saying he was not present at the event and hence not bound by the confidentiality rule.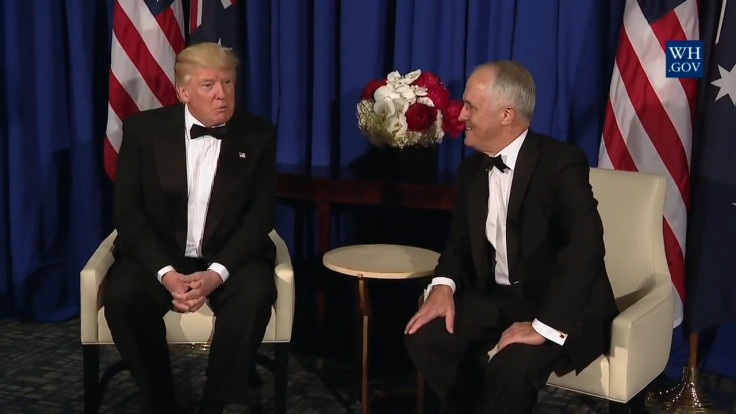 While some Australian politicians seemed to have appreciated Turnbull's sense of humour, one former leader said he was shocked that the Australian PM could quip about Trump.
Reacting to the mixed reviews of his parody footage, Turnbull said: "It's meant to be off-the record.
"Everyone says politicians are too serious, too scripted. You gotta lighten up right. It's Australia," he told the Seven Network on Friday morning.
The relationship between Trump and Turnbull got off to a rocky start. During an acrimonious first phone call, Trump reportedly became infuriated when he learnt about an Obama-era deal by which the US would accept up to 1,200 refugees from Australian detention camps.
Trump labelled the proposal a "dumb deal" and reportedly slammed the phone down on the Australian prime minister.
However, when both the world leaders met in New York last month, Trump cleared the air about their hostile phone call, saying: 'We are not babies'. He described his relationship with Turnbull as "fantastic".