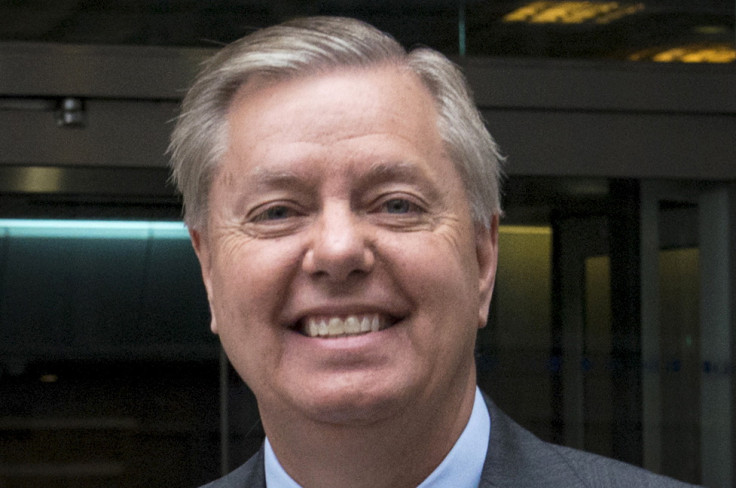 Time to add another Republican likely candidate to the 2016 presidential election mix. South Carolina Senator Lindsey Graham told CBS' This Morning that he will be announcing his plans for the upcoming election on 1 June.
While Graham has not made a formal announcement, his comments on the morning show made it clear that he fully intends to run. "I'm running because I think the world is falling apart," he said.
According NPR, Graham appeared during the Iowa Republican Party's annual Lincoln Day Dinner on 16 May and spoke on foreign policy and national security. He also took aim at announced candidate Kentucky Senator Rand Paul, who used his speech to speak against the National Security Agency's wiretapping programme.
"If I'm president of the United States and you're thinking about joining al-Qaeda or Isil [Isis] —anybody thinking about that?" Graham joked. "I'm not gonna call a judge. I'm gonna call a drone and we're gonna kill you."
In an interview with NPR, Graham acknowledged that he will have plenty of work ahead of him during the campaign season. "I've got people who are fans...I've got people who are critics...and I've got people who say 'I think I know him, but I really don't know him,'" he said.
Warning against a rightwards shift
The 59-year-old long-time ally of Arizona Senator John McCain told NPR he fears his party will lean too far to the right during the primaries and said he wanted real debate on immigration reform. Graham, a firm supporter of immigration reform, said that far-right conservatives in the party could scare away Latino voters.
"I worry that we'll marginalise ourselves once again with the fastest growing community in America, the Hispanic community," he said.
If he decides to run, Graham will join a steadily growing group of Republican contenders for the White House. Senators Ted Cruz (Texas), Marco Rubio (Florida), Rand Paul (Kentucky), former Arkansas Governor Mike Huckabee, retired neurosurgeon Ben Carson and former Hewlett-Packard CEO Carly Fiorina have already launched their campaigns.
Meanwhile, Governors Chris Christie (New Jersey), Scott Walker (Wisconsin), former Florida Governor Jeb Bush and former Texas Governor Rick Perry are also expected to announce their bids.