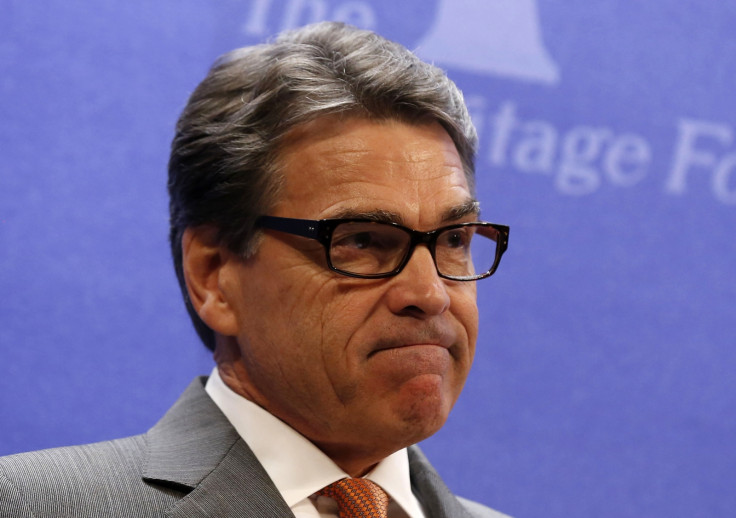 Former Texas Governor Rick Perry will announce his 2016 election decision on 4 June in Dallas, it was announced on 15 May.
Perry's wife Anita Perry tweeted that the pair have a "special announcement" to make about "the future of this great country and how our family can play a role". According to Politico, a Perry spokesman said the former presidential candidate will be "announcing his intentions" about 2016 at the event.
Perry is the longest-serving governor in the history of the Lone Star State, serving in office for 14 years before leaving office this year. He previously ran for president in 2012, before dropping out and endorsing former House Speaker Newt Gingrich.
A crowded Republican field
If he enters the race, as he is expected to, the 65-year-old will face fierce competition from a crowded GOP field.
Six fellow conservatives have announced their decisions to run for the Republican nomination: Texas Senator Ted Cruz, Florida Senator Marco Rubio, Kentucky Senator Rand Paul, former Arkansas Governor Mike Huckabee, retired neurosurgeon Ben Carson and former CEO Carly Fiorina.
Wisconsin Governor Scott walker and former Florida Governor Jeb Bush are also expected to announce their bids in the coming weeks.
According to the Washington Post, Perry has also been polling in the low single digits in early-voting states and has his abuse-of-power indictment hanging over his head. He has worked to better prepare for a possible presidential campaign and has visited the key states of Iowa, New Hampshire and South Carolina, the Post reported.
Perry suffered a tough hit during his 2012 campaign when he forgot the three federal agencies he proposed to eliminate during a debate.
Politico reported that Perry will be in Des Moines on 16 May for the Iowa Republican Party's Lincoln dinner and will remain in the state for several days.