US military action against North Korea is "an option on the table", Secretary of State Rex Tillerson warned at a news conference in Seoul on Friday (17 March).
"Certainly we do not want for things to get to a military conflict, we're quite clear on that in our communications, but obviously if North Korea takes actions that threaten the South Korean forces or our own forces, then that would be met with an appropriate response," the Trump administration official said.
Tillerson had arrived in South Korea from Japan and called for a "new approach" towards the hermit kingdom, noting that efforts to persuade North Korea to abandon its nuclear weapons and ballistic missiles programmes over two decades had failed.
"Let me be very clear: the policy of strategic patience has ended. We are exploring a new range of security and diplomatic measures. All options are on the table," Tillerson added.
Tillerson also urged Beijing to apply sanctions against North Korea imposed by the UN in retaliation to its nuclear and missile tests.
"I don't believe we have ever fully achieved the maximum level of action that can be taken under the UN Security Council resolution with full participation of all countries," he said in a thinly veiled swipe at China.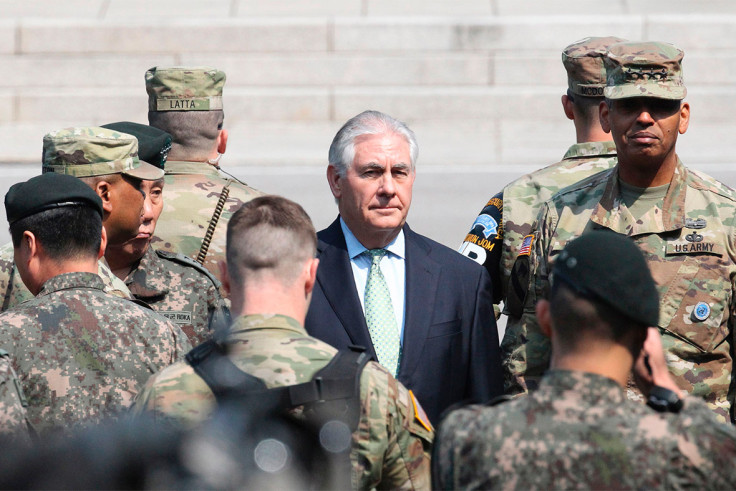 Beijing insists that it is doing all it can to rein in Pyongyang, but is cautious of any moves that could potentially destabilise the erratic nation and says it will not threaten the livelihoods of the North Korean population, according to Reuters.
Chinese state media said the problem is between Washington and Pyongyang and criticised what it described as the "throwing of dirty water" at it by the US and South Korea.
In a commentary, the official newspaper of China's Communist Party said: "They seem to have forgotten that the root of the nuclear issue on the peninsula is the deeply ingrained mutual distrust between the United States and North Korea and the long-time, intense confrontation between North and South."
The former Exxon Mobil CEO's remarks came after visiting the Demilitarized Zone – one of the world's most militarised borders – which separates the two Koreas.
Pyongyang has said it is developing intercontinental ballistic missiles capable of hitting the US mainland and it has carried out two nuclear tests as well as a number of missile launches since last year.