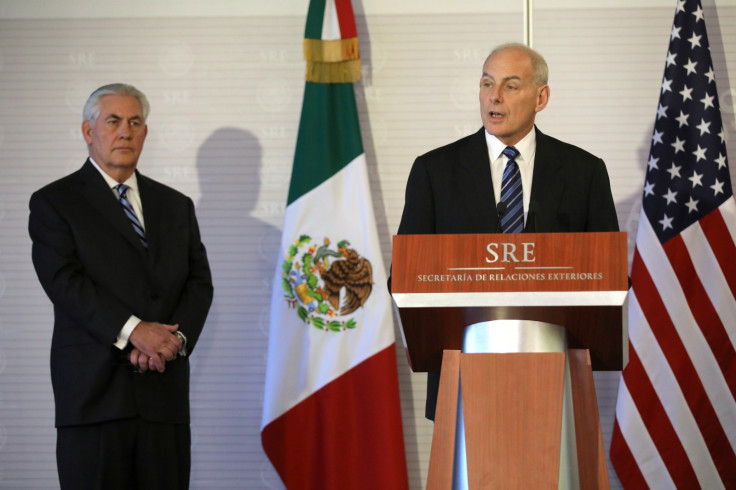 The Department of Homeland Security is considering separating children from their parents if they are found crossing the Mexico border illegally.
Secretary John Kelly confirmed on 6 March the department is considering a change the current policy to stop families from making the journey to the US.
Highlighting the perilous nature of the journey and dangers posed by human trafficking groups smuggling people across the border, Kelly said: "I would do almost anything to deter the people from Central America to getting on this very, very dangerous network that brings them up through Mexico into the United States."
He added that social service organisations informed him that more than 90% of all women are sexually abused during the trip.
CNN journalist Wolf Blitzer asked Kelly if he understood how the action could be perceived by the average person, to which he replied: "It's more important to me, Wolf, to try to keep people off of this awful network."
When Kelly was asked about the prospect of separating children from their parents, he said: "We have tremendous experience in dealing with unaccompanied minors.
"We turn them over to HHS, and they do a very, very good job of either putting them in kind of foster care or linking them up with parents or family members in the United States."
He added: "Yes, I am considering, in order to deter more movement along this terribly dangerous network, I am considering exactly that. They will be well cared for as we deal with their parents."
However, critics have railed against the new policy proposal. Marielena Hincapie, executive director at the National Immigration Law Center, said given that these children will have just completed a perilous journey through Central America, the measure "could create lifelong psychological trauma."
Reacting to the original reports, Democratic Congressman Henry Cuellar, whose Texas district includes 200 miles of the US-Mexican border, said: "Bottom line: separating mothers and children is wrong. That type of thing is where we depart from border security and get into violating human rights."
Leon Fresco, a former Department of Justice official, said the Obama administration considered separating families, but ultimately rejected the move. "It was never implemented because the idea was that it was too detrimental to the safety of the children to separate them from their parents, and the thinking was it was always preferable to detain the family as a unit or release the family as the unit," Fresco was quoted as saying by CNN.
Since 2014, tens of thousands of families fleeing violence and poverty in Central American countries such as Honduras, El Salvador and Guatemala, were caught crossing the border illegally. Between 1 October 2016 and 31 January 2017, about 54,000 children and parents were apprehended at the border, Reuters reported.
Former President Barack Obama's administration started a campaign to raise awareness in Central American countries about the dangers of the journey as well as the possibility of being sent back once in the US.
Generally families are housed in detention centres for a few days before being released in the US as they wait to hear about their case. It can take years for a case to be completed in federal immigration court. More than 534,000 cases were pending before the courts in February, according to a recent memo from Kelly quoted in the Associated Press.
Shortly before Kelly's comments, Trump signed a new executive order banning people from six majority-Muslim nations from entering the US. The new order takes effect from one minute past midnight on 16 March.