The United States, Mexico and Canada have announced plans to launch a joint bid to co-host the 2026 World Cup.
At a news conference on Monday (10 April) on the 102nd floor of One World Trade Center in New York City, the heads of the three countries' football federations told of ambitious plans to host the international football tournament.
The bid, which as-of-yet has no rivals, is reportedly supported by US President Donald Trump, whose key campaign pledge in the lead up to his election last year was to build a strengthened wall at the US border with Mexico.
Trump's pledge has caused angry rhetoric from both sides of the border, but according to the head of US Soccer the billionaire is "pleased" to have Mexico on board.
"We have the full support of the United States government in this project," said the US Soccer president, Sunil Gulati, according to The Guardian.
"The president of the United States is fully supportive and encouraged us to have this joint bid. He is especially pleased that Mexico is part of this bid. And that's in the last few days we've gotten further encouragement on that.
"We're not at all concerned about some of the issues that other people may raise. We looked at bidding alone and decided in the end we wanted to bid with our partners in North America, and we have a strong encouragement from President Trump to that very end."
If successful it would be the first time more than one country has co-hosted a World Cup since 2002, when Japan and South Korea held the tournament.
The composition of the FIFA-organised event will also change in 2026 with a new 48-nation field, playing 80 matches.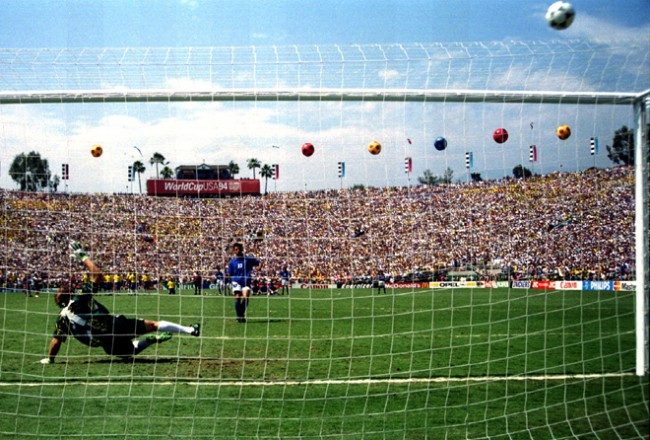 The last time the US held the quadrennial international football tournament was in 1994, with Mexico hosting twice, in 1970 and 1986. Canada staged a widely-praised women's tournament two years ago.
The proposal suggests that the US will host 60 games, including all matches from the quarter-finals onwards, whilst Mexico and Canada will host 10 each.
The bid is seemingly supported by a series of new NFL stadiums built since the 1994 World Cup, a renovated Azteca Stadium in Mexico City and Canada's largest arena, the Commonwealth Stadium in Edmonton, Alberta, newly renovated ahead of the 2015 Women's World Cup.
"We have the luxury of being able to pick from stadiums and cities," said Gulati. "And given what's happened in the last World Cups and some of the Olympic Games, the thought of building sports facilities that don't have a long term use is not one that's particularly inviting for anyone.
FIFA rules stipulate that no bids will be accepted from Europe and Asia because Russia is staging the World Cup in 2018 while Qatar is set to host the tournament in 2022.
The hosts will be officially announced by FIFA in 2020.