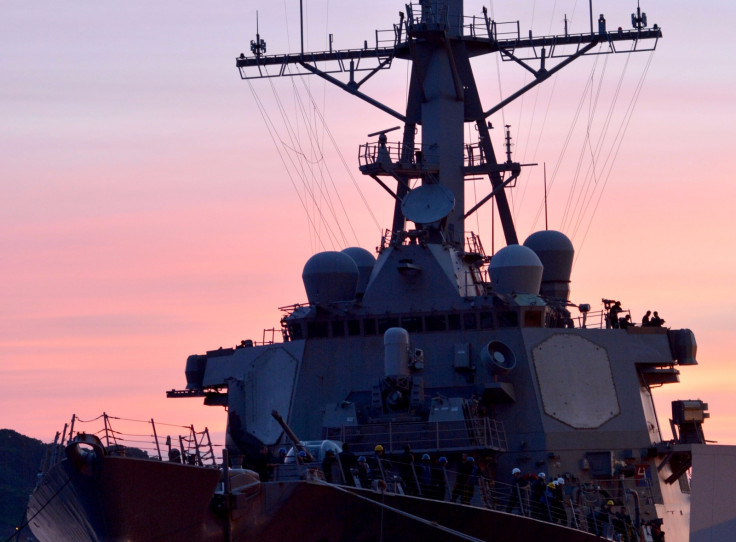 The US Navy has released the names of all seven sailors who died when its vessels collided with a merchant vessel South West of Yokosuka, Japan on Saturday (17 June). The USS Fitzgerald hit a Philippine-flagged cargo ship, causing huge damage to its hull.
After searching for missing sailors, bodies were found in the flooded berth of the ship once it was brought back to Yokosuka Naval Base.
Of the dead, the youngest was Dakota Kyle Rigsby of Palmyra, Virginia who was only 19-years-old. The other sailors killed ranged from 23 to 37 years old.
They were named by the Navy as:
Gunner's Mate Seaman Dakota Kyle Rigsby, 19, from Palmyra, Virginia
Yeoman 3rd Class Shingo Alexander Douglass, 25, from San Diego, California
Sonar Technician 3rd Class Ngoc T Truong Huynh, 25, from Oakville, Connecticut
Gunner's Mate 2nd Class Noe Hernandez, 26, from Weslaco, Texas
Fire Controlman 2nd Class Carlosvictor Ganzon Sibayan, 23, from Chula Vista, California
Personnel Specialist 1st Class Xavier Alec Martin, 24, from Halethorpe, Maryland
Fire Controlman 1st Class Gary Leo Rehm Jr., 37, from Elyria, Ohio
On releasing the name, the Navy said they were "located in flooded berthing compartments, after divers gained access to the spaces, June 18, that were damaged when the Arleigh Burke-class guided-missile destroyer USS Fitzgerald (DDG 62) was involved in a collision with the Philippine-flagged merchant vessel ACX Crystal".
The mother of one survivor told the Associated Press of how her son, 19-year-old Brayden Harden, was knocked from his bunk by the collision and heroicly attempted to repeatedly dive down to save shipmates before air pockets in the berth ran out.