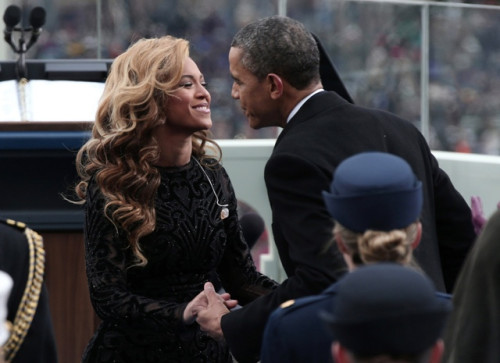 The outlandish claims of a French photographer about US President Barack Obama and singer Beyonce Knowles having an affair have been reportedly rubbished off.
The sensational piece of gossip by paparazzo Pascal Rostain, who is friends with former French first lady Carla Bruni, was featured in respected French newspaper Le Figaro on 10 February, reports US Weekly.
In the report, Rostain told interviewer Jean-Marc Morandini:
"You know, at this moment, in the United States, there's something huge which is about to happen."
"Indeed, it will come out tomorrow (Feb. 11) in the Washington Post. We cannot say that it is from the gutter press - a supposed liaison between President Barack Obama and Beyonce. I can assure you that the world will talk."
Rostain added, "We should not forget Marilyn [Monroe] or Monica Lewinsky. You can be the president of the first world power — that doesn't make you any less a man."
But the Washington Post paid no heed to Rostain. According to Hollywood Life, a spokesperson for the Post dismissed the claim in an email to Poynter.com, saying, "It's definitely not true."
Rostain's claims were reported by a range of respected French media including Le Figaro and Le Point, the Daily Mail said.
The gossip seems to have stemmed out of Obama's close friendship with Beyonce and her husband of nearly six years Jay Z.
The President and wife Michelle Obama recently celebrated their 21st wedding anniversary last October but there have been rumours in the press over perceived strains in their relationship in recent times.
However, what made the photographer publicly make such a radical claim and the reasons behind it remain unknown.
But netizens seem to be having a field day over this piece of gossip. Here are some of the tweets on the President Barack Obama and Beyonce alleged 'affair':
Rumours of an #ObamaBeyonce affair 'come from the idea that heterosexual men & women are incapable of being friends.' http://t.co/uXOW2kSRc3

— Sonia Faleiro (@soniafaleiro) February 11, 2014
The fact that there's a rumor going around that Beyoncé and Obama have something going on really makes me question humanity — Daniella Cardona (@daniellacardona) February 11, 2014
This collage best describes my feelings on that Beyonce / Obama rumor... Xo #Beyonce #Obama pic.twitter.com/pcELXHQ9Hc

— Sergio Kletnoy (@SergioKletnoy) February 11, 2014
It is so lazy and pernicious to imagine an Obama-Beyonce cheating scandal: http://t.co/ID8qWXjuMW — Alyssa Rosenberg (@AlyssaRosenberg) February 10, 2014
Obama-Beyonce Affair Rumor Is The Most Absurd Thing We've Heard All Day http://t.co/xEVMxAWKld via @HuffPostPol

— Paul Ackermann (@paulac) February 10, 2014